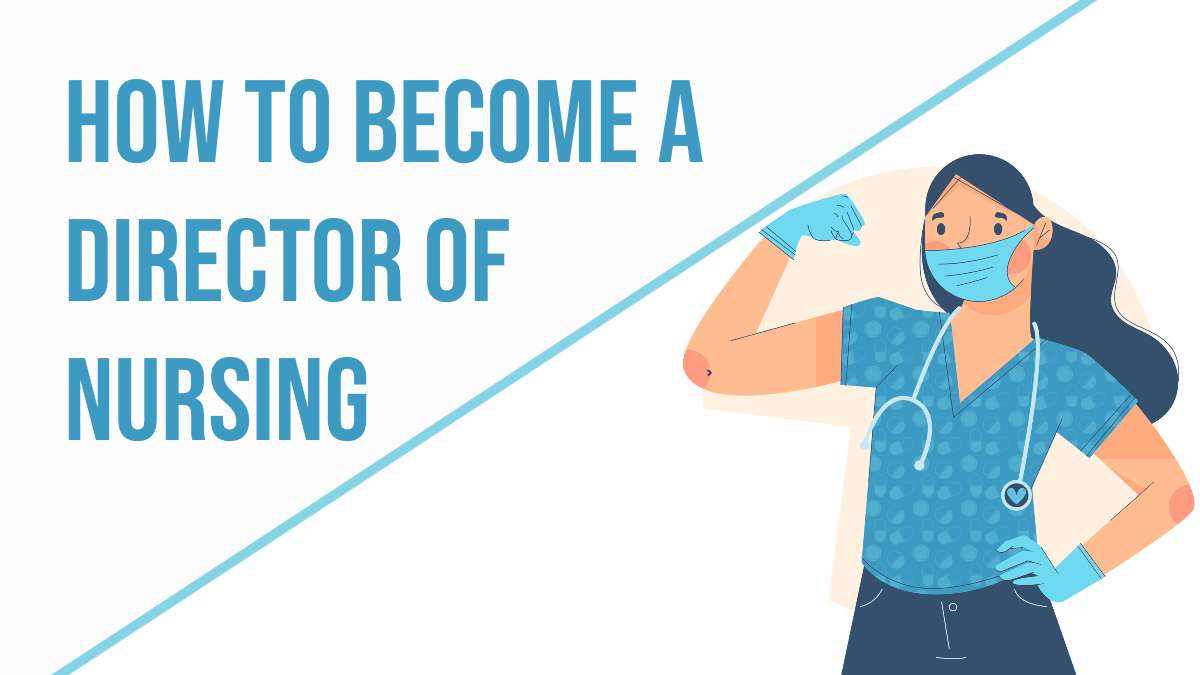 As a generation of doctors and nurses retires, and the need for excellent patient care grows, new job options in healthcare have emerged. One of the primary possibilities is to become a director of nursing services.
These directors will equip the next generation of nurses to meet the industry's specific challenges and maintain excellent care delivery.
Those who pursue a career as a director of nursing services may discover interesting chances to further their careers and become healthcare leaders. Especially, it takes a lot of work to become a director of nursing.
Further training, education, certification, or experience may be necessary depending on the company, organization, and job.
Also, you can able to know,
What is a Director of Nursing?
Registered nurses who work as directors of nursing combine years of clinical nursing experience, education, and management abilities to build organizational structure and standards of care.
This professional nurse advises medical personnel, department leaders, and administrators on nursing service issues within the complicated healthcare system and serves as a community resource.
By addressing issues or concerns and supporting improvements, directors of nursing typically function as a bridge between the nursing staff and the facility's physicians and administration.
The Director of Nursing's responsibilities are diverse, ranging from understanding and rewriting nursing service rules and goals. Within a system to providing input into budget development and assisting staff and community organizations.
Directors of Nursing usually work full-time in an office and have strong leadership capabilities, such as excellent communication and conflict-resolution abilities.
What Does a Director of Nursing Do?
The duties of a director of nursing vary widely depending on the kind and size of the institution where they work. They are, however, usually in charge of leading and supervising a facility's nursing staff.
Conflict resolution skills, the capacity to follow regulatory requirements, direct infection control efforts, and lead communication within and across departments are required.
They may also have a direct part in recruiting and interviewing employees. Other frequent responsibilities include:
# Staff operations, business planning, and budget development are all under my supervision.
# Ascertaining that the facility adheres to professional standards, as well as state and federal regulatory requirements.
# The nursing program's planning and direction.
# Keeping in close touch with patients and their families.
# Managing inventories, order processing, and product and service distribution.
What are The Steps to Become a Director of Nursing
To apply for director of nursing employment, nurses must complete specific educational standards and have years of experience. The following are the steps to become a director of nursing:
Read more: How to Become a Contortionist
Go to Nursing School
It would be best to become a registered nurse before working as a nursing director.
A community, college, or trade school may provide you with an associate degree in nursing, or a college or university can provide you with a Bachelor of Science in nursing.
Before applying to a nursing school, look for the Commission accredits on Collegiate Nursing Education. Only graduates of authorized nursing schools are eligible to work as registered nurses.
If you wish to work as a director of nursing, you may get a bachelor's degree in health administration, business administration, or health management. An associate degree takes 2 or 3 years to complete, whereas most Bachelor's programs take three to four years to finish. During this period, you might take classes in nursing administration, clinical procedures, patient care, nursing science and principles, and research.
Get Licensed
You must study for and pass the National Council Licensure Examination-Registered Nurse to become a registered nurse. You register, pay a fee, and make an appointment with a nearby testing center to take the exam.
After that, you may apply for a license to practice nursing in your state, which is a must for all nurses.
Develop your Nursing Skills
To develop into management roles, directors of nursing must have at least two years of experience as registered nurses.
Nursing positions are available in hospitals, private offices, mental health clinics, nursing homes, and other healthcare settings.
You may learn about everyday duties and activities in healthcare environments, how these facilities run, and what resources nurses need to complete their tasks in these sorts of employment.
Advanced Degrees may be Obtained
A master's degree in nursing, healthcare administration, nursing leadership, or any discipline that mixes business and healthcare is required for most nursing directors.
Also, this degree takes two years to complete and covers management, ethics, finance, research, and pharmacology studies. Also, you will gain crucial communication, leadership, and critical thinking skills throughout this period.
Specific organizations may require nursing directors to obtain a Ph.D. in executive nursing administration.
Doctoral degrees teach you even more leadership abilities and typically provide you the opportunity to specialize in a field like gerontology, pediatrics, or mental health.
A Ph.D. may also help you develop in your job and increase your earning potential.
Make Contact with the Leaders of Healthcare Facilities
Connect with other healthcare administrators and facility executives to get career advice and hear about the available director of nursing openings. Reach out to people using professional networking platforms to network successfully.
You may also meet new individuals by attending business events and conferences.
Consider joining professional nursing and healthcare organizations, which often include networking opportunities such as seminars, social meetings, and member directories.
Apply for Managerial Opportunities
To prepare for a career as a director of nursing, get experience in a management position such as department manager, nurse manager, head nurse, assistant unit manager, or clinical leader.
These careers provide you with the leadership and communication abilities you'll need to manage a team of nurses and healthcare professionals.
You may include this work experience on your resume while applying for director of nursing roles.
Qualifications for a Director of Nursing
A nursing director supervises personnel, sets objectives, establishes care standards, and manages funds.
She also acts as a go-between for the nursing staff, physicians, and management, addressing issues and providing solutions.
A nurse director requires both education and experience in health care administration.
Education
A bachelor's degree in nursing is required, and some facilities prefer a master's degree in nursing or an administrative profession like public health or business administration.
Some hospitals may hire nurses with an associate degree, but nurses with a bachelor's degree have higher job chances. Students should take business, finance, or healthcare administration courses, whatever degree they pick.
To become registered nurses, they must also pass the National Council of State Boards of Nursing's NCLEX-RN exam.
Experience
Medical institutions seek seasoned nurses with many years of full-time clinical experience as registered nurses for director of nursing jobs.
The University of Mary states that directors of nursing must have at least four years of experience, two of which must be in a supervisory capacity.
Some medical institutions accept a mix of education and experience.
Nursing directors in Oklahoma must have a bachelor's degree and two years of experience, including one year in a supervisory position.
Certification
Some workplaces demand certification in nursing administration or nursing specialties. Behavioral health case managers must be certified by the Oklahoma Department of Mental Health and Substance Abuse Services.
The National Association of Directors of Nursing Administration in Long Term Care, for example, certifies directors of nursing. Directors or assistant directors of nursing must be registered nurses with at least two years of full-time experience.
Significantly, they must recertify every five years, exhibiting 1,000 hours as directors of nursing or consultants and 75 hours of continuous education.
Personal Characteristics
When hiring a new director of nursing, hospitals look for more than just a strong academic or employment past. They favor people who have had management positions, such as charge nurse or nurse manager.
They'll spend a lot of time training personnel, consulting with physicians and management, and resolving conflicts. They must also be organized to keep accurate financial and patient records.
What Education and Experience are Needed to Become a Director of Nursing?
While qualifications vary by business, registered nurses with a Bachelor of Science in Nursing are often sought for director of nursing roles. Eighty-five percent of the director of nursing job ads we looked at required applicants to have a Bachelor's degree.
According to Farber, certain environments, such as hospitals, may likely prefer or perhaps demand a Master's in Nursing (MSN). However, education isn't the only factor to consider.
As you would assume, experience is a key consideration for aspiring nursing directors. This should ideally include experience as a unit leader or supervisor.
For obvious reasons, experienced RNs are frequently good candidates for director of nursing positions—they've walked the road and understood how to deal with the day-to-day issues a nursing unit encounters.
Of course, when RNs expand into additional administrative responsibilities, there is still a learning curve.
Once you've gotten some of that on-the-ground perspective, it'll be easier to search for leadership opportunities that will allow you to develop your skills further. And ensure that you like the responsibility of guiding people.
How to Prepare for Your Nursing Career Advancement
Regardless of where you are in your nursing career, a director of the nursing position will need both education and experience.
A Master of Science in Nursing degree that includes leadership and administration-focused courses will help you improve senior leadership skills while also demonstrating your commitment to professional advancement.
Read more: How to Become a Substitute Teacher
What is a Director of Nursing Services' Role?
The director of nursing services oversees a nursing workforce to guarantee optimum performance and patient care. The director of nursing services should train new nurses and keep them informed of policy and regulations and organizational processes and directives.
The director must properly express the facility's standards of care and review the nursing staff's performance to ensure compliance.
Directors of nursing services work with doctors, community agencies, and other institutions to enhance departmental efficiency and overall care quality.
They may be asked to seek and purchase new equipment or handle personnel issues. Patients, residents, and relatives are among the people that nursing directors encounter.
The director of nursing services often reports to the CNO. In a bigger context, like a hospital, the director of nursing services generally oversees a department and its staff.
Smaller companies, such as nursing homes, may have a director of nursing services overseeing the whole workforce.
This job also involves budgeting and supervision, record-keeping, organizing employee schedules, tracking complaints, and other administrative functions.
When researching the Director of Nursing and these factors, it is also worth knowing how to become a surgical nurse.
Director of Nursing Salary and Employment
From 2016 to 2026, medical and health care administrators, especially Nursing Directors, may expect a 20% job increase.
According to the US Bureau of Labor Statistics (BLS) data, the need for professional nurses continues to grow. These positions paid between $127,166 and $167,520 in May 2018.
Geographical location, education, certification, talents, work experience, and years in the sector influence salary ranges.
Read more: How to Become a Pediatric Oncologist
Conclusion
A director of nursing is a skilled registered nurse who oversees the operations of a nursing department or a healthcare institution. These people are well-liked team leaders with a wide range of duties.
If you're a nurse or want to be a nurse and work in management, you may want to try becoming a director of nursing.

MUST SEE
Embark on your e-commerce journey with 'The Essential Guide to Starting an Online Store.'...

Discover the lucrative benefits of investing in Abu Dhabi's real estate market. This article...

Dive into 'What is the Legal? Understanding Law in Our Lives,' a detailed exploration...