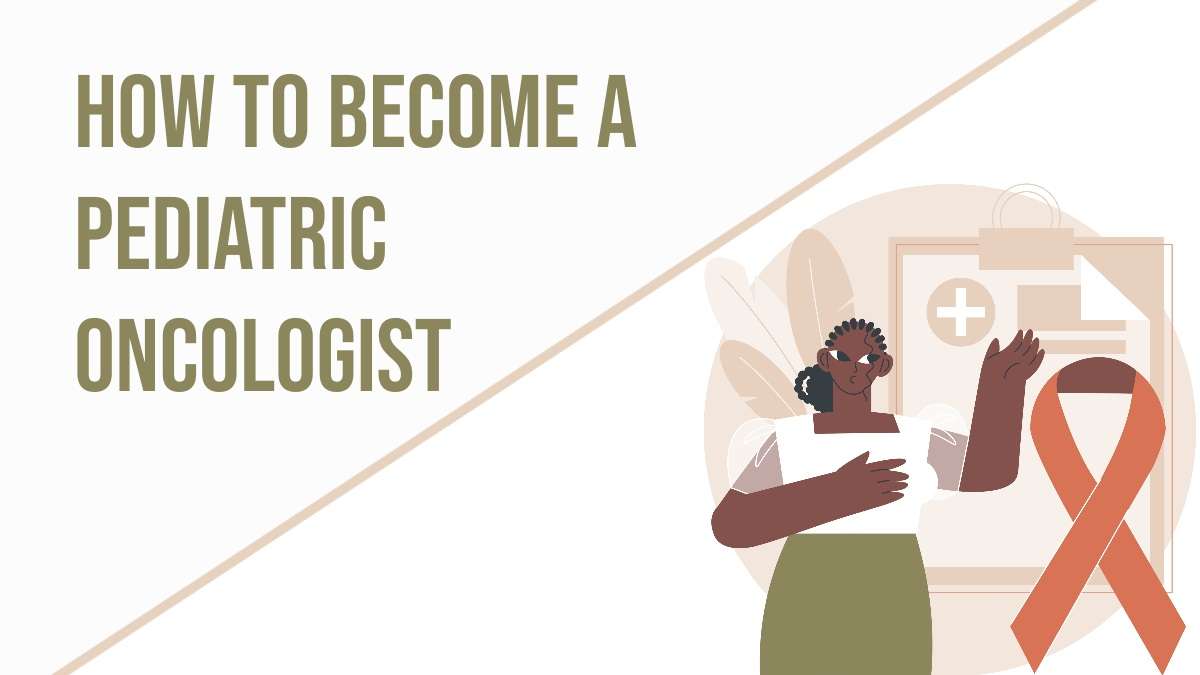 The path to becoming a pediatric oncologist, which focuses on treating children with cancer, is long and complicated. And, if you wish to become an expert in this field, you must dedicate around 13 years of study, starting with undergraduate college work.
The pursuit of this vocation continues after graduation from college and medical school with a residency and fellowship in pediatrics and pediatric oncology, followed by board certification.
Also, you can able to know,
What Is A Pediatric Oncologist?
A pediatric oncologist is a clinician who specializes in the diagnosis and treatment of malignancies that affect children and teens. Children and adolescent cancers are uncommon and need a unique treatment plan.
To be successful in this sector, physicians must establish a solid connection and a natural affinity with children and newborns.
What Do Pediatric Oncologists Do?
Pediatric oncologists assess patients and develop treatment regimens, which may involve chemotherapy – a drug that kills cancer cells – or other therapies.
They will monitor and treat the patient from diagnosis until treatment completion. A pediatric oncologist will also educate the youngster and their family about expectations during and after treatment.
In addition to treating patients, pediatric oncologists are active in research and, due to scientific advancements in the area, they often lecture in medical schools.
What Type Of College Degree Do Pediatric Oncologists Need?
Pediatric oncologists treat cancer in kids. Their duties are emotionally and intellectually hard, and how effectively they do them may mean the discrepancy between life and death for family members.
Their intensive training reflects their role. A pediatric oncologist's training may take up to 13 years. Including an undergraduate degree in the sciences, a medical degree, a pediatric oncology residency, and an optional fellowship.
Undergraduate Training
Completing a particular undergraduate degree is not required for individuals intending to pursue a career as a pediatric oncologist.
On the other hand, applicants attending medical school must finish specialized courses in the sciences to be accepted.
According to St. John's University, typical pre-medical requirements include
# one year of general chemistry with laboratories.
# one year of general biology with laboratories.
# one year of physics with laboratories.
# one year of organic chemistry with laboratories.
# one course in biochemistry with laboratories.
# one course in calculus or statistics.
Because of these stringent prerequisites, most prospective medical students prefer to major in a science such as a biology or chemistry instead.
Medical School
Medical school is required of all physicians and takes four years to finish. Clinical rotations give students with hands-on instruction and patient experience.
Clinical rotations take place in the third and fourth years of medical school. Also, these rotations include pediatrics and cancer and other areas like obstetrics, cardiology, and surgery.
After medical school, students must apply for a residency program in the field they intend to specialize in, such as pediatric oncology.
Residency
Student doctors are licensed to practice medicine only after completing a residency.
During their residency, which generally lasts three years for pediatric oncology, doctors also learn about their specialization.
A pediatric oncology residency may be completed at a children's hospital, a general hospital's oncology unit, or a specialty medical center. Residents undergo their training in close collaboration with pediatricians and oncologists.
Fellowship
A fellowship allows pediatricians to specialize in their field-most people who desire to work as pediatric oncologists complete an oncology or hematology-oncology residency.
Most fellowships last two years; however, some might last three. Fellowships in hematology and oncology that combine the two disciplines usually take longer to finish.
Completing a fellowship is voluntary, although it may boost a doctor's earning potential and offer additional professional prospects. The fellowship is the last step of a pediatric oncologist's education.
Read more: How to Become a Contortionist
The Qualifications For Becoming A Pediatric Oncologist
Regardless of specialty, new doctors graduate from medical school with the same education. After graduation, residents and fellows train them in their chosen specialty of medicine.
A residency in pediatrics or internal medicine prepares a practitioner for a fellowship in a specific sub-specialty.
So, before starting a pediatric oncology fellowship, an oncologist must finish a pediatric residency.
Especially, it takes a long time to become a pediatric oncologist.
It all starts with a pre-medical baccalaureate, a specialist bachelor's degree that fits the requirements for medical school entrance.
Aside from the requirements of their stated major, students are prepared for medical professions with a solid foundation in fundamental sciences and advanced arithmetic.
After graduation, future pediatricians go on to a four-year Ph.D. degree at a medical or osteopathic institution.
Medical students also study microbiology, genetics, organic chemistry, pharmacology, immunology, and medical ethics. Clinical rotations provide students with more hands-on experience.
Clinical Training
Clinical rotations are designed to expose students to various medical practices to help them choose a specialty.
Pediatricians must finish three years of clinical training at a pediatric residency, where they will practice children's medicine under the supervision and guidance of experienced doctors.
Those interested in specializing in pediatric malignancies may frequently find chances to collaborate with oncologists throughout their residency, earning expertise and developing valuable professional networks.
New doctors must complete a three-year fellowship in the specialty after finishing their residency to become board-certified in pediatric oncology.
Board Certification
Certification boards exist in all major medical specialties to review and certify a physician's competence in that profession.
After completing their residency requirements, those interested in becoming pediatric oncologists must first pass board tests in general pediatrics.
The second round of board exams, given jointly by the pediatrics and internal medicine boards, is required for certification in pediatric oncology.
Physicians who pass these exams are board-certified in pediatric oncology and may practice anywhere in the United States. Certification must be kept up to date via a continuing education program.
Alternative Path
Internal medicine is a specialty that may lead to adult and pediatric oncology certification.
No official joint programs exist. Pediatricians and oncologists must work together to monitor adequate levels of training and clinical experience.
The internal medicine and pediatrics boards must each approve a joint fellowship request. These clinicians, like traditional oncologists, must pass general pediatric board exams before being certified in pediatric oncology.
What Type Of Training And Licensure Do I Need to Be a Pediatric Oncologist?
Medics must complete a residency and fellowship after graduating from medical school. A doctor would have to seek a pediatric residency program, which takes three years to complete.
Following residency, a doctor would need to get board certified by the American Board of Pediatrics (ABP) and complete a pediatric oncology fellowship, which would take another three years.
This is where you'll learn cutting-edge patient-treatment approaches like precision medicine and genetic sequencing.
Every state requires licensing. However, the standards vary from one state to the next. The U.S. Medical Licensing Examination is a nationwide test that requires an M.D. to take (USMLE).
What Does A Pediatric Oncologist's Job Entail?
A pediatric oncologist can identify and treat malignant lymphomas and diseases of the red blood cells, white blood cells, and platelets in children.
Chemotherapy, surgery, immunotherapy, stem cell transplant, and radiation therapy are among their treatments.
Significantly, they also support their patients' well-being and long-term survival as certified oncology experts.
Pediatric oncologists undertake clinical, transitional, and science-based research to uncover novel methods to treat these disorders and illnesses. And aim toward a solution since the medical industry is constantly updating and improving.
How Much Do Pediatric Oncologists Earn?
According to Payscale.com, pediatric oncologists earned a median yearly income of $150,000 in 2019.
The Bureau of Labor Statistics does not split out statistics for this profession, but general pediatricians earned an average annual pay of $183,240 in 2018.
Doctors and surgeons have a bright future ahead of them, with a 7% increase in job openings projected between 2018 and 2028, which is substantially faster than the average for all professions.
Read more: How to Become a Substitute Teacher
Conclusion
A pediatric oncologist is a clinician who specializes in the diagnosis and treatment of malignancies that affect children and teens.
Children and adolescent cancers are uncommon and need a unique treatment plan.
To be successful in this sector, physicians must establish a solid connection and a natural affinity with children and newborns.
Pediatric oncology is both a life-changing and gratifying field. They've been appropriately trained to treat youngsters with cancer.

MUST SEE
Learn why seeking legal help is crucial after experiencing a scooter accident. This comprehensive...

The excitement of driving a brand-new car off the lot is a feeling many...

Embark on a fulfilling culinary career with this comprehensive guide that blends education, skill...