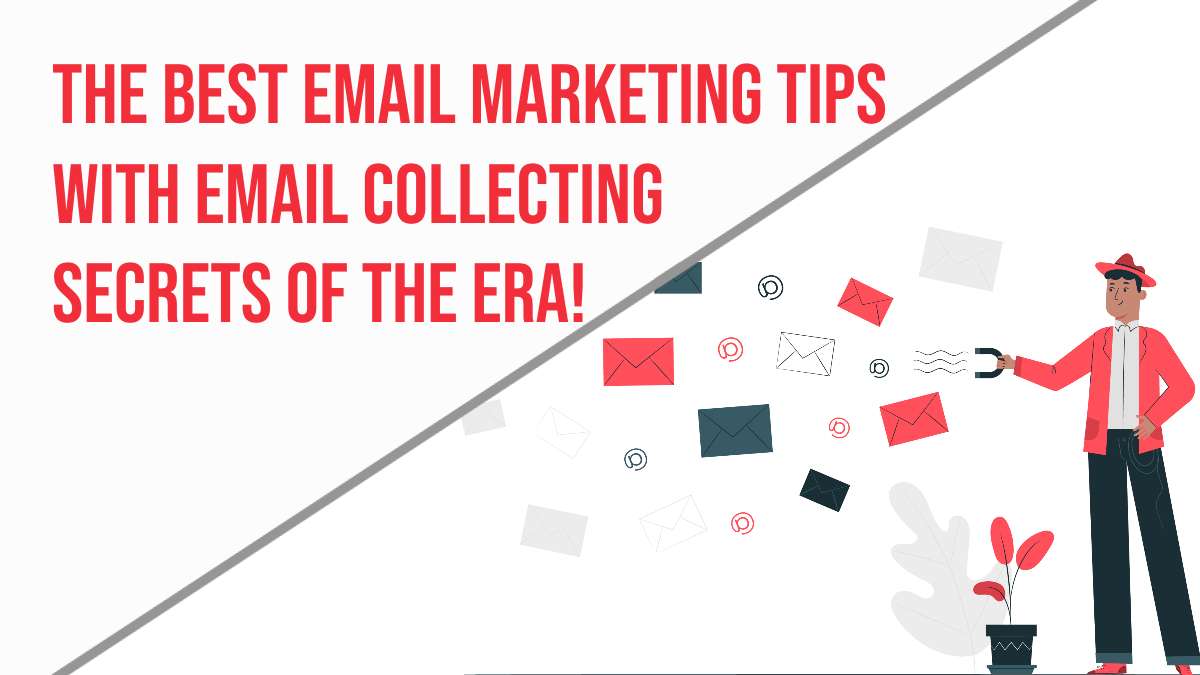 Marketing and business are closely related subjects in this era. The success of a business vendor definitely depends on how they are going to market their product.
This is the nature of growing profit from the small-scale business to a larger scale business level. When roaming through innovative technical ideas, you will find an array of marketing tools.
Among those, email marketing is one of the best known for international and local markets.
Yet, the profitability may depend upon how advanced the marketing strategies are. Thus, knowing the tips of business marketing through an email campaign will offer you an excellent opportunity to earn a remarkable profit.
So, let's look at how to build up an email address collection and how to create a productive email to attract more customers.
Also, you can able to know,
How to Collect Emails for an Email Marketing Campaign
Collecting emails for a marketing campaign is a bit complicated step as you should fulfil all the given criteria.
# Email addresses should be real and active.
# The receiver should have an interest in your product or service.
# The collected email addresses should be from the preferred regions and countries.
8 Tips to Collect Emails for a Marketing Campaign!
Find the following tips to create a list of unique email receivers who are interested in your products, content or services.
01. Always be Smart to Include Valuable Information for the Receiver
No one will like to go through spam emails that are highly disturbing to their primary email addresses. In this case, if they feel like a security risk they may definitely use a fake email address generator such as EmailGenerator.org or EmailFake.org for their registration with your site.
This may never let you collect unique customers around your email marketing campaign. Thus, delivering smart and informative content related to your product or service is always important.
Since the primary goal of email marketing is to reach more people in the community, this tip may help them to gather more and more interesting fans around their service and product.
02. Enrich your Commercials with Useful References
Usually, no one will get an on-the-spot decision to move from a product to another or a service to another type of service without further exploration of the freshly introduced product or service.
Thus, they need resources to clarify their doubts. This may similarly work upon your email marketing campaign too.
So, be wise enough to use the curiosity of the community to uplift the validity of your service or product.
You can include the contact information to know more about the pros and cons of your product and if possible a comparative description of other competitive products.
Then, the customers will gather around you to grab more details and discounts.
03. Try to add Some Video Tutorials
People always need further clarification to trust a new concept. Thus, if you could explain as much as you can about the product or service that you are going to market, people will likely follow you than the others which do not contain many explanations.
Definitely, an email campaign may contain a written description that describes the specialties of your product. And, you may add some images too.
So, you can attract the reader's visual perspectives and can deliver the product specifications through words.
Yet, what if you could deliver some auditory stimulus with nice visual captures through a video clip. This kind of tutorial marketing tool will easily touch the customer's heart.
So, they never let your emails without opening to see what is the exciting gifts you bring for them.
Read more: How to Become a Graphic Designer Without a Degree
04. Create a Readable and Creative Pool of Contents
Long, complicated descriptions will never attract people as it seems board to read. Thus, if you wanted to create a marketing piece of content, keep it simple.
So, you should be careful when using the language. Especially, it is important to use day-to-day speaking words than the complicated traditional phrases.
And, always deliver subject centred information. Usually, passive voice sentences may badly impact popularization.
Similarly, if you are using the English language to market your product, don't use words more than three vowels frequently.
Next, calling in their mother tongue will help you to attract more clients. So, you should research your audience before creating the content.
05. Always Double-Check the Audience by Effective Researching!
Well! Audience research is one of the most important parts of email marketing. First of all, you should know who are the beneficial group of people to buy or use your service.
As an example, if you wanted to market a baby product through an email marketing tool, you should gather emails of parents and teachers than all others.
Next, if it is something that helps to keep your baby warm, you should think of what geographical locations do it need more?
Similarly, the age of the children, gender, activity level of the baby is also mandatory factors when marketing a baby product.
But, in case you collected a pool of emails that are not related to the preferred audience, you will never be successful in marketing.
In another hand, if you publish the content over internet sources and social media networks with the hope of collecting emails, it will never be effective in an incorrect pool of audience.
Often, social media networks will allow you to select the audience for each post boosting. Thus, be smart to own maximum harvest of all those facilities.
06. Never ask for their Emails Directly! Influence them to register on your contact list!
This is one of the biggest faults done by majorities. As an example, if you are willing to chat with a girl or boy, will you directly ask for their contact information?.
And, if you ask for it at first, there is a huge possibility to fail. This simple theory works similarly in email marketing too.
So, be smart in content marketing. Never ask them to send their emails to receive products or news directly for our benefit.
Instead, you can highlight the benefits of being engaging with your product. And, you also can enhance their curiosity to use the service by introducing several happy outcomes or happy customers.
07. Offer Alternatives by Generating a Pool of Choices; yet, Try to be Unique!
People usually neglect those who are saying "I am the boss". Thus, make sure to offer some details about alternative products and services that are similar to yours. But, be strategic to highlight your product is the unique brand out of all others.
This may allow customers to make selections. Thus, if you have included all the strategies to make your product unique, they will go through it. Thus, your organic traffic may increase rapidly.
You can use the following strategies to highlight your product.
# List it at the first of your description
# Point out all the benefits
# Highlight major health benefits
# Address to customer's hearts
# Keep it in an affordable price range
# If you couldn't manage it in the lowest price range, provide reasons and quality measures behind its price
# Ask, them to register by email for more details or to buy the product
# Do not stop your writing without a link to upcoming content
So, eventually, you will receive a set of emails hoping to know more about that specific product. These kinds of organized marketing tips are important for multiplayer purposes like increasing sales while building up an email address collection for email marketing campaigns.
07. How to Store Collected Emails?
There are an array of tools to list down thousands of emails. The hosts also allow you to store a certain number of emails.
However, a random email generator or fake email address generators are not matching for this purpose as there are no facilities to store email addresses.
The email address collectors for windows, Android and iOS systems are also there to build up your list. However, since those are specific to the artificial crowd, that kind of list may not work better for marketing purposes.
Anyway, you can store collected emails in special tools like email collectors, Google Drive or in an excel sheet too.
Read more: How to Become an Investor
08. Email Collecting Tips in Short…
Email marketing and social media marketing is becoming the World's number one marketing tools for products and services.
If you need to market your products through emails, you should definitely have a pool of email addresses.
So, the most ideal way of collecting email addresses is content marketing and social media post sharing.
Since it is an organic list of email addresses it increases your sales more than with a list of generated email addresses.
Up until now, we tried to explain how you can generate this organic email address list by reaching more and more real traffic. So, we hope this piece of content in 8 email marketing tips will help you to grow your business.

MUST SEE
Learn why seeking legal help is crucial after experiencing a scooter accident. This comprehensive...

The excitement of driving a brand-new car off the lot is a feeling many...

Embark on a fulfilling culinary career with this comprehensive guide that blends education, skill...