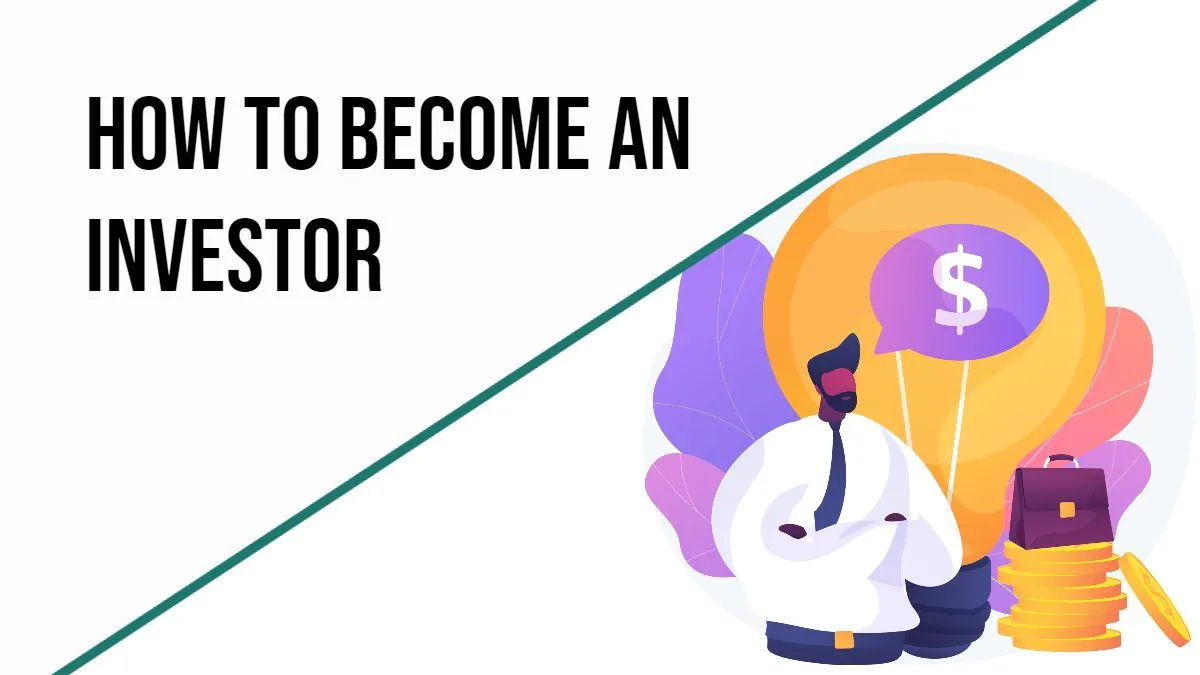 If you want to be an investor, you have to set your goals and publish them. To be an investor, you need to learn to invest well. This article will show you how to become an investor and what are the easiest ways to do that.
Continue reading the article to know how to be successful as an investor. Do you want to increase your chances of becoming a successful investor in the long run? You can make a big difference by developing good investment habits.
Also, you can able to know,
What is an investor
If you use your money to buy an asset that is likely to increase your value, you can be considered an investor. Anyone with or without money can become an investor.
You can become an investor by opening a brokerage account and buying several shares. First, you need to create your goals and identify the investment candidates that fit your goals.
How much Money do you need to Become an Investor
Most people think of the word "investment" as something that needs to be done with a lot of money. And you do not need to be an expert to start investing or become an investor. Even if you have very little money to save, your savings will grow with compound interest.
The key to building wealth is to develop good habits, such as investing money regularly every time you earn your income. Making your money work for you is simply an investment.
Even if you want to invest, the problem is how much of your income is allocated to it. Since most of your total income is consumed on the necessities of life, there may be very little left to invest. The more you can afford to invest, the greater the return and, the lower the investment, the lower the return.
Most of the investments you can make do not require much money, and you do not need to be a millionaire to start investing.
There are savings accounts for investment that you can start with even a very small amount of money. You will have to make some payments to keep your money in a financial institution.
Also, the minimum amount you need to open such an account varies from one financial institution to another.
The amount you will need varies depending on the way you intend to invest. For example, if you want to invest in real estate, you need a large investment.
You do not need a lot of money to start investing, and you need to decide which investment option is right for you. If you can't decide for yourself, you can get help from a financial advisor.
How to Become an Investor with Little Money
As I mentioned above, the key to building wealth is to develop good habits, such as regularly setting aside money for investment. Where do you start investing?
Once you have a small amount of money, you can start investing. Here are some investment tips that you can start small.
Start investing in the stock market
You do not have to worry about the amount of money you need to invest in the stock market. And it is not a barrier to buying shares. You can start investing in the stock market with very little money and, even one share can be purchased.
This is a great way to familiarize you with investing before making a big commitment. You can learn a lot about investing by risking very little money. As a beginner, you can buy a share instead of investing in a full share.
Investing in Low Basic Investment Mutual Funds
Mutual funds are investments in investment securities. It allows you to invest in stocks and bonds in a single transaction.
If you are a first-time investor with a small amount of money to invest, invest in a fund company with at least $500 to $600.
Investing in Treasury Securities
This is a very safe way to stop your money and earn at least some interest until you are ready to go for a high return investment with high risk.
Treasury securities, also known as savings bonds, are a successful way to start with a small amount of money and low risk.
Robot-advisor Invest
You do not need prior investment experience when investing with robotic advisors. Most robotic advisors want to start investing $500 or less.
But it varies from advisor to consultant and from account to account.
There are also automated investment plans in place that charge an annual fee equal to a small percentage of your balance.
How to Become an Accredited Investor
An accredited investor is an individual or entity that allows you to invest in securities without being registered with the Securities and Exchange Commission. Those investors are loosely regulated and entitled to opaque investments such as start-ups.
You need some wealth and knowledge from the Securities and Exchange Commission to become an Accredited Investor. In addition, you will need to have some professional certificates or positions or other credentials for that.
Also, net assets and calendars over $ 1 million individually are required to have exceeded $ 200,000 in both years. You must also show confidence that you will maintain these income limits for at least the current year.
Recognized accredited investors have a legal approach to investing in products that are not available to the general public.
These securities include hedge funds, business capital funds, stock group funds, private equity transactions, angel investments, and other personal placements.
The Securities and Exchange Commission under Regulation D under Section 501, both an individual and an organization have the potential to become accredited investors.
Accordingly, banks, brokerage firms, registered investment advisory firms, state-registered investment advisers, rural business investment firms, free reporting consultants, and family offices with assets of at least $ 5 million under management have the potential to become accredited investors.
To be an accredited investor, you must have more than $ 1 million in assets of your own or your spouse's equivalent. Must have earned more than $ 200,000 in the last two years and must be able to maintain that level of income.
The biggest advantage of being an accredited investor is that you have the ability to invest in hedge funds and other unregistered securities that are not available to the general public.
How to Become an Angel Investor
Angel investors are people who invest in start-ups that have the potential to grow. The role of angel investors is to help an investor pass a new business that was promised at the outset and make it a success.
Individual investors also have the ability to participate in angel investing.
Requirements to be obtained to become an angel investor
It requires a person with an annual income of more than $ 200,000. That means joint income with the spouse, who has had more than $ 300,000 or at least $ 1 million in investment assets in the last two years.
Non-accredited investors or individuals whose income or assets fall below those limits can enter the angel investment through the Crowd Fund platforms.
Angel investing takes a different approach, and when an investor funds angels, no debt is created. Instead, the investor receives shares or ownership of the company.
Angel investors have a variety of ways to prepare their investment, and many start-ups involve friends and family in the company.
Angel teams are another way they are a group of angel investors who review and invest in a startup. That way, you can create an angel team with your friends.
You can go for an angel investment alone, but it is advantageous if you can invest with other people.
How to become an angel investor with little money
Angel investing can be a daunting task, but you are more likely to lose your money. Let's find out how to invest in it even if you don't have much money.
How much money you need to become an angel investor depends on the size and size of the investment you intend to make.
The uniqueness of this method is that you can invest on a very small scale. But keep in mind that the smaller your investment, the lower your share.
How to Invest in Small Businesses
Did you think that investing in the early stages of business development was a great opportunity to increase your wealth? Small businesses can be called the backbone of any economy. Therefore, they should be helped to grow as an economy.
Investing in a small business can help grow their portfolio and help local business owners on their journey to financial independence.
Investing in small businesses gives them an opportunity to grow, which can lead to local goodwill, employment, and long-term economic benefits. Today, small business investments are often structured as limited companies or joint ventures.
Many small business owners do not know how to get money in various ways other than business loans. You can invest in a small business by starting from scratch or buying into an existing small company.
Investing in a small business can be several times more rewarding than investing in a large company. If you want to invest in a small business, you must either give capital to the business or buy company shares.
You can reap the benefits in the form of interest, dividends, or appraisals. If you give money to a business as capital, it will be repaid over time, and interest will be paid.
If you buy shares in a small company, you get company ownership. And over time, you will earn a share of the business's earnings. If the company expands later, you may also benefit from it.
Conclusion
Being an investor is something anyone can do. But it is important to be aware of the investment and try to find everything you can. This article shows you how to become an investor as a beginner.
Many people are afraid to start investing because of the greed to put money at risk. So take your time to start investing and learn about it, and over time you will be able to build a portfolio that will help you achieve your financial independence goal. Engaging in any investment is a key step to success.

MUST SEE
Learn why seeking legal help is crucial after experiencing a scooter accident. This comprehensive...

The excitement of driving a brand-new car off the lot is a feeling many...

Embark on a fulfilling culinary career with this comprehensive guide that blends education, skill...