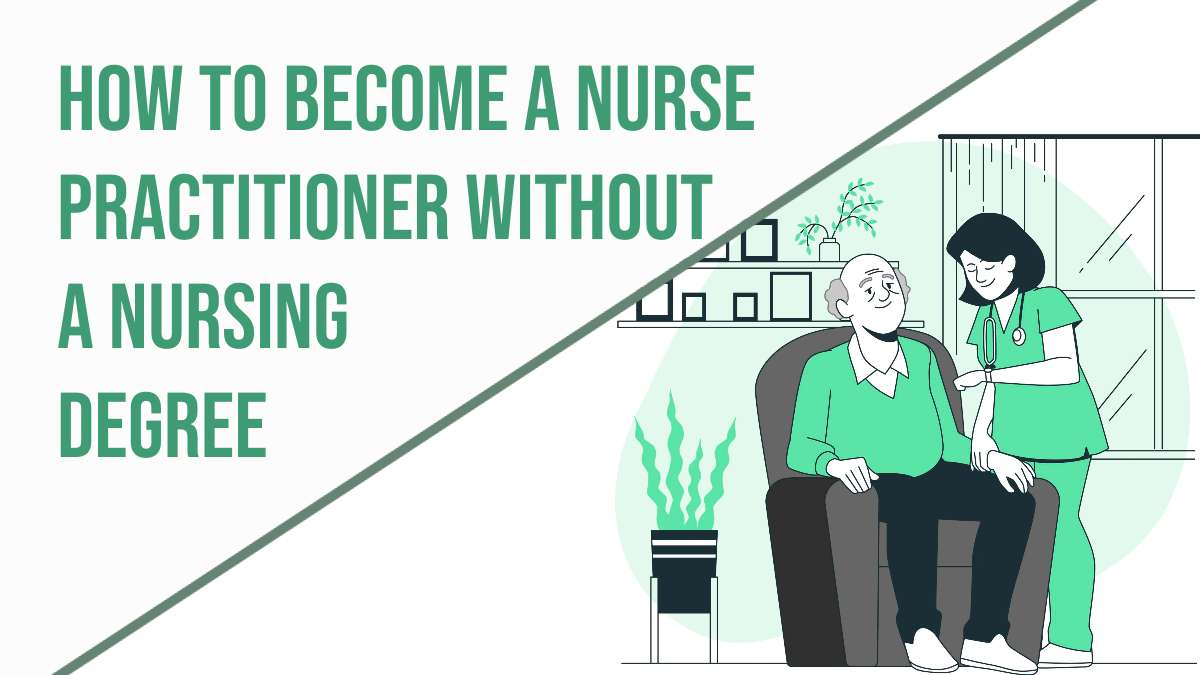 Nurse practitioners are primary and specialized care clinicians who may practice alone or with other health professionals. They usually specialize in one area of health care, such as pediatrics, psychiatry, or geriatrics.
To work as a nurse practitioner, you don't need a Bachelor of Science in Nursing (BSN) or prior nursing experience. However, obtaining licensure as a nurse practitioner will need an advanced or graduate degree.
Registered nurse to Master of Science in Nursing programs are available, and MSN programs do not need a BSN.
A job as a nurse practitioner may be appealing to you if you want to work in health care in a meaningful position.
Also, you can able to know,
What Is A Nurse Practitioner?
Adult-gerontology, family nurse practice, neonatal, pediatrics, psychiatric, and women's health are examples of NP specialties. NPS works at hospitals, doctors' offices, clinics, and community health centers.
RNs might become nurse practitioners to enhance their careers and earn more money. Nurse practitioner education takes two to six years to finish, but graduates say it is worth the effort.
The BLS estimates a 46% growth rate for NP jobs from 2019-to 2029, with a median yearly income of $117,670.
What Does A Nurse Practitioner Do?
Nurse practitioners, like regular nurses, offer basic patient care. However, nurse practitioners are qualified to provide advanced care to their patients.
Responsibilities of a nurse practitioner vary by medical specialty but commonly include:
# Physically examining a patient's heart, lungs, and other important organs.
# Diagnosing diseases or injuries.
# Individualizing patient treatment programs based on medical requirements and conditions.
# Medications for patients.
# Evaluating medical test findings, such as blood samples.
# Keeping meticulous medical records for each patient.
# Personalized counsel, support, and resources for patients' health and wellbeing.
# Providing basic patient care such as transferring patients into wheelchairs, providing food, and changing hospital bedding.
# Assisting doctors, nurses, and other medical professions.
Is It Possible To Become A Nurse Practitioner Without Nursing Experience?
To become a nurse practitioner, you must have previous nursing experience. However, MSN programs do not need a BSN or prior nursing experience.
Direct-entry MSN programs, often known as accelerated nursing programs, are nursing programs for those with no previous experience or education in nursing.
They allow those who want to change careers and have a bachelor's or master's degree in another field to seek a career in nursing.
These programs are generally two to four years long and contain standard nursing preparatory courses.
Hundreds of hours of clinical experience will be gained throughout your MSN program.
Direct-entry MSN programs are designed to assist you first in becoming a registered nurse. And getting the license and then following the curriculum to help you develop your career as an advanced practice registered nurse (APRN).
To get your accreditation as a nurse practitioner and then seek state licensing, you'll almost certainly need to have clinical experience after graduation.
Before applying to MSN programs, be sure to verify your state's nursing license requirements.
How to Become a Nurse Practitioner Without a Degree
There are normally two paths to becoming a nurse practitioner for people who do not have a BSN. The prerequisites for becoming a nurse practitioner without a BSN vary by state, but here are some standard procedures to take.
Become a Registered Nurse
Registered nurses (RNs) may have an associate degree or have completed authorized nursing education to be eligible for licensing as registered nurses.
If you are a career switcher, direct-entry MSN schools would normally educate you to achieve RN licensure first before pursuing a career in nurse practitioner practice.
Earn Your MSN Degree
Nurse practitioner specialties are available via RN to MSN programs, typically taking two to three years to complete. This bridging program may contain upper-level nursing bachelor's courses that the RN must complete before enrolling in MSN graduate classes.
Anyone with a bachelor's or master's degree in another subject may enter a direct-entry MSN program on-campus or online.
Gain Clinical Experience
You will complete hours of clinical experience as part of your MSN degree, regardless of whether you are pursuing an RN to MSN or a direct-entry MSN degree.
Post-graduate hours are required for licensing and certification as a nurse practitioner, and they are not optional.
Apply for a Nurse Practitioner Certificate
Earn a certificate as a nurse practitioner in the medical field of your choice. Some prospective nurse practitioners engage in a credential program that requires them to take extra higher education courses.
If your chosen area of medicine is more specialized, such as infant or older adult care, a certificate course may be the best solution.
You might also choose to take a reputed medical organization's national nurse practitioner examination.
Apply for Nurse Practitioner Licensure
It is the last step before becoming a certified nurse practitioner and starting your nursing profession. In most cases, fees are charged to get a license.
Also, research the nurse practitioner requirements for the state in which you wish to practice to remain on track while you pursue your nurse practitioner certification.
After receiving your nurse practitioner license, you must continue to complete renewal criteria to maintain your status.
Read more: How to Become a Surgical Nurse
Nurse Practitioner Skills
Nurse practitioners have both hard and soft skills, which means they have specialized healthcare talents and beneficial behavioral characteristics. Here are several abilities that might aid nurse practitioners in their work:
Flexibility
Nurse practitioners must be able to adapt to a range of scenarios fast. New medical situations and patient demands might drastically alter a nurse's work environment and daily routine.
Being adaptable allows nurses to give vital care to their patients, even in difficult or unexpected conditions.
Ability to Use Technology
Nurse practitioners must have a basic grasp of healthcare technology since more medical institutions utilize electronic rather than paper records. Electronic health records and databases should be viewable, updated, and maintained by nurse practitioners.
Depending on their specialty, nurse practitioners may also employ additional medical technologies, such as digital blood pressure monitors or telemedicine services.
Teamwork
Nurse practitioners often work as part of a multidisciplinary team, coordinating treatment with other medical experts. Nurse practitioners must work closely with other healthcare professionals to coordinate services and treatments.
Nurse practitioners may also require medical supervision or clearance to prescribe drugs or establish treatment programs depending on the state.
Assisting doctors with patient evaluations and treatment plans are critical in these settings.
Empathy
A nurse practitioner sees many patients, each with their unique set of medical issues, requirements, and concerns. Nurses who can sympathize with each patient's specific health concerns or anxiety might build stronger bonds with them.
Patients may be shown empathy by a nurse practitioner actively listening to their concerns, showing compassion for their medical circumstances, and giving specific resources or direction.
Capabilities in Organizing
On a normal day, nurse practitioners must juggle several activities and care for many patients. To accomplish their tasks on time and efficiently, nurse practitioners must be organized. 
Being organized may assist nurse practitioners in determining which activities to handle first, keeping correct health records, and managing their time efficiently.
Leadership
Nurse practitioners have greater latitude in examining, diagnosing, and treating patients than ordinary nurses. Nurse practitioners with good leadership skills may find it simpler to take charge and make well-informed healthcare choices.
Why Become a Nurse Practitioner?
There are several reasons to pursue a nurse practitioner (NP) career. NPs may offer a better degree of care than registered nurses bridging the gap between RNs and primary care doctors (PCPs). And frequently assist serve groups neglected by PCPs.
Especially, they also make a lot more money than registered nurses.
According to the Bureau of Labor Statistics, registered nurses make an average of $70,000 per year, whereas NPs make roughly $103,880 per year.
Read more: How to Become a Director of Nursing
Nurse Practitioner Salary and Job Outlook
Nurse practitioners earn an average of $113,270 a year in the United States.
The salary of a nurse practitioner, on the other hand, is decided by a range of parameters, including years of experience, geographic location, and healthcare specialty.
Between 2019 – 2029, the US Bureau of Labor Statistics predicts a 45 percent increase in employment opportunities for nurse midwives, nurse anesthetists, and nurse practitioners.
According to the BLS, this is faster than the average predicted to increase for most other occupations. This growth is expected, according to the BLS, in part due to increased demand for expanded healthcare services aimed at aging seniors in the United States.
According to the BLS, the number of states that allow nurse practitioners to deliver healthcare without the supervision of doctors is expected to rise, resulting in increased demand for nurse practitioners.
Read more: How to Become a Contortionist at Home
Conclusion
Especially, there are online programs available to get you started on the road to getting a master's degree in nursing, whether you are already a registered nurse or not.
Also, if you decide to pursue one of these programs, be prepared to work hard and put in a lot of effort. It doesn't imply it won't be difficult because it takes less time and is typically less costly.
It may be more difficult than a typical MSN program at a university. These online classes will put your critical thinking, time management, and other abilities to the test.
However, upon graduation, you will be prepared with the skills necessary to provide high-quality patient care while also earning work in a rapidly expanding healthcare area.

MUST SEE
Learn why seeking legal help is crucial after experiencing a scooter accident. This comprehensive...

The excitement of driving a brand-new car off the lot is a feeling many...

Embark on a fulfilling culinary career with this comprehensive guide that blends education, skill...