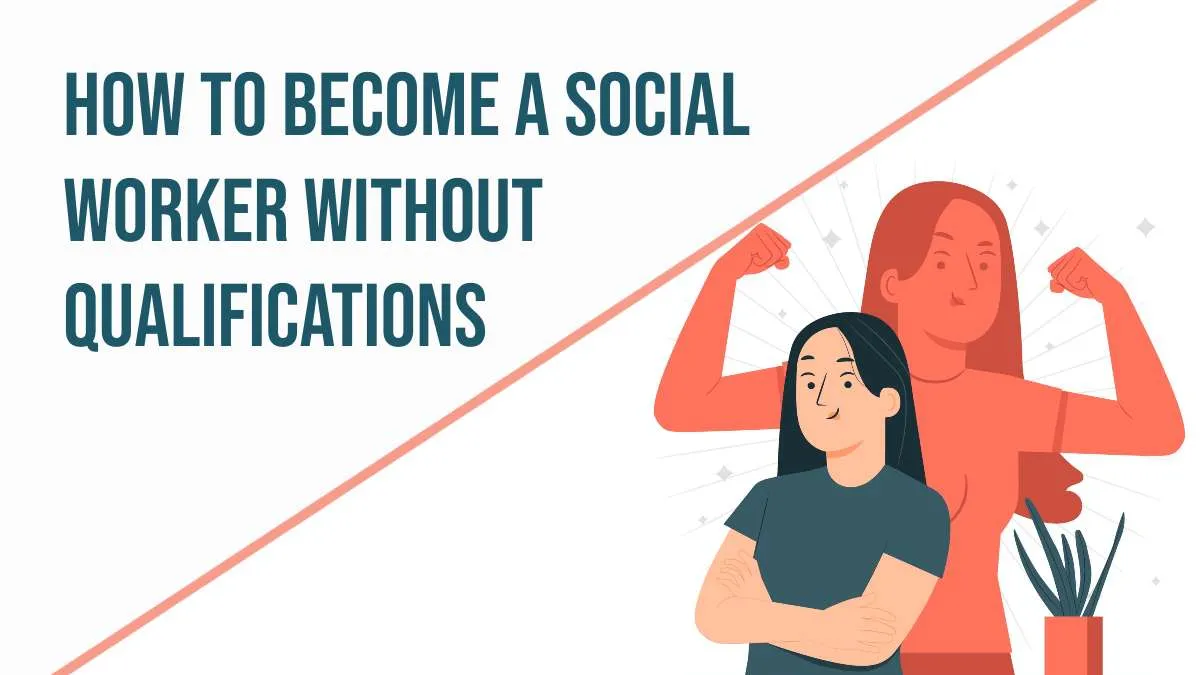 The contributions of social workers may be found in a wide variety of societal contexts. Do you know who is a social worker and how to become a social worker without qualifications?
They are essential in providing individual and family services, governmental functions at the municipal and state levels, and ambulatory medical treatment.
By facilitating client access to relevant resources and social services, social workers can positively impact the lives of those they serve.
They are responsible for administering mental health services, preventing drug misuse, protecting children and families, and providing frontline support during times of crisis.
The tasks expected of social workers vary depending on the location in which they operate and the area of concentration they pursue. Some find employment in child welfare, while others teach, work in hospices, or provide palliative care.
The vast majority find employment that is commensurate with their level of education and the expertise they have acquired.
However, let's see how to become a social worker without qualifications and other facts.
Also, you can able to know,
What Is Social Media Worker
Social work is a "practice-based profession and an academic subject that fosters social change, development, social cohesion, and the empowerment and emancipation of individuals," according to the International Federation of Social Workers.
The social work profession is founded on four principles: support, protection, empowerment, and change.
Through empowerment and support, social work seeks to improve the wellness and quality of life of those at risk, including children, young people, the disabled, and the elderly. So, it is worth it for you to learn how to become a child social worker.
It aims to safeguard individuals from danger, abuse, or neglect and assists those with social or health problems that interfere with their everyday lives.
Making beneficial changes is the main goal for the person and society. Social work aims to promote a happier, healthier, and more accepting society where people's diversity is valued and respected.
Social care, which provides hands-on patient care, should not be confused with social work.
While social care is a vocational industry with a sizable untrained population, social work is a qualified professional that requires social worker training.
Can You Get A Job In Social Work Without A Degree?
The attainment of a bachelor's degree or earning a master's degree is often included among the prerequisites for employment as a social worker.
On the other hand, people who are interested in a career in social work have access to a wide range of lucrative employment opportunities, some of which may need a high school diploma or its equivalent.
Especially there are various career paths available within the field of social work, many of which do not require a degree in social work to enter the field.
According to the National Association of Social Workers, these career goals frequently focus on linking individuals, families, and societies to services and resources that can positively affect their contribution to society.
Professionals in the field of social work may find employment in various settings, including school social work, hospitals, rehabilitation centers, childcare facilities, or penal institutions.
Steps Of How To Become A Social Worker Without Qualifications
Even if you don't have a degree, there are still several paths you may take to prepare yourself for a career in social work. Now, let's see how to become a social worker without qualifications.
If you don't have a degree but are interested in starting a career in social work, you may find the following advice helpful:
Gain a relevant experience
If you don't have a Bachelor's but want to start a career in social work, you should consider getting relevant job experience that you can include on your CV.
You may look for entry-level work or volunteer opportunities in relevant industries, such as healthcare, childcare, or groups that support charitable causes.
This experience may provide the appropriate training to impress potential employers, such as understanding the healthcare system and societal implications, community outreach skills, and interpersonal communication abilities.
Go with training
You may want to think about enrolling in alternative training programs and classes offered by online institutions, colleges in your area, or vocational schools instead of going for a regular degree.
Suppose you want to learn useful knowledge that might benefit your efforts in a career in social work.
In that case, you should investigate the many classes offered in psychology, sociology, childhood development, community building, and social programming.
Enroll with certifications
Aspiring professionals in social work may get certifications in various areas, which can be added to a CV to make it seem more impressive.
Online versions of many of these certification programs are often available.
# First-aid certification
# Special education certification
# Crisis intervention certification
# American Sign Language certification
Top Skills That Need To Become A Social Worker
The field of social work is always evolving, as well as one that places a high level of responsibility on its practitioners.
Whether they are born with them or learn them throughout their careers, social workers need to keep honing these talents to be successful in their chosen profession.
Although this is not an entire list, the following abilities are necessary for a career in social work.
Listening
Effective listening makes up a large part of a social worker's job. This is giving customers their words and participating actively in every interaction, so they feel you understand them.
Early on, respect and trust are established, which makes it easier for customers to confide in you. Active listening creates a therapeutic bond while making your clients feel noticed and understood.
A crucial element of any therapeutic partnership is feeling seen and validated in any practice environment.
Empathy
In social work, it's crucial to have an intellectual, cultural, and emotional understanding of people. It is almost hard to assist people without empathy or understanding.
Empathy is the capacity to put oneself in another person's shoes and share some of their potential feelings. Like other talents, empathy can be learned and developed.
Although most persons who choose to work as social workers are already empathetic by nature, it still benefits from the practice.
Communication
Social workers must communicate in various ways and with various individuals. The variety of services you may provide as their social worker must be plain and open.
By doing this, you are stating what is possible and what is not. It may not be easy to have these discussions, particularly if you need to do all you can to assist your client. But we have our limitations, as you will discover over time.
Ensure to include this conversation when establishing a rapport throughout goal-setting and contracting. As a result, this procedure is discussed orally and in writing.
Additional contact occurs amongst care providers. You will be expected to record your interactions with clients and write reports for your supervisor, the management of your agency, and your coworkers.
Critical thinking
The concept that each person or group is experiencing a one-of-a-kind confluence of events that calls for a one-of-a-kind response is one of the aspects that contribute to the difficulty and satisfaction that may be found in social work.
Skills in critical thinking are thus very valuable in the field of social work.
After determining the aspects of the problem that their clients' problems, social workers utilize their abilities to think critically and creatively to devise solutions that are both effective and feasible.
Social workers use logic, analysis, and imagination to determine the benefits and drawbacks of various techniques and come up with a solution for each situation.
Organization
In addition to assisting clients, social workers are responsible for providing case management services.
These services include billing clients, preserving collateral connections, conducting phone conversations, and connecting with other care providers.
It takes a significant amount of organization and the capacity to prioritize tasks following the severity level of a client's requirements to provide clinical case management and psychosocial assistance.
Inner strength
The job of social workers may be emotionally taxing. Being committed may drain you physically and emotionally. You must look after your emotional and psychological needs to maintain good health and a successful profession.
If you take action to strengthen your skills and talents, you will experience more satisfaction from your profession and be more valuable assistance to your customers.
A profession in social work is tremendously significant. It gives you the chance to use your greatest qualities, a body of ideas, and information about human behavior and development.
And a variety of practice methods to assist people affected by mental illness, addiction, and trauma. Thus, it is vital for you to get the idea of becoming a nurse practitioner without a nursing degree. If this speaks to you, you might want to consider a career in clinical social work.
Social Work Jobs Without A Degree
Social work might be a great career option if you are interested in assisting others and making a difference in your community.
Finding entry-level opportunities may help you get your first job without professional experience if you are new to the sector.
You can choose the ideal position by knowing more about job options in this industry.
Teacher's assistance
As a teacher's assistant, you can assist a lead instructor in the classroom by taking attendance, grading exams and assignments, and managing other record-keeping duties.
Additionally, you may keep an eye on how kids are acting and, if needed, encourage them emotionally by giving them advice or helping out those who need more assistance with their homework.
To ensure that the students have the best possible learning experience, some classroom assistants have specialized training in dealing with children with special needs or impairments.
Community health worker
You might help people with various health, social, and mental health needs as a community health worker.
You could offer to translate or interpret, teach people about health and behavior, connect individuals and their families with social work programs, give counseling, and speak up for people and communities.
Substance abuse counselor
Individuals battling chemical dependency and other addictions may benefit from your support and aid.
You can accomplish this by meeting with clients to assess their mental health, determining whether they have a problem with substance abuse or behavioral issues, and developing goals for treatment.
You can also accomplish this by providing clients with group and individual counseling, referring clients to support groups, and developing aftercare plans to facilitate a successful recovery.
Child care provider
You may be responsible for providing various levels of care to children of different ages who are located in a variety of settings. You might work at a childcare center, a school, or even in the homes of individual families.
You could help children with their schooling, participate in playtime and educational activities, and drive them to and from community events.
And talk to their parents about the children's conduct and how you can best promote their growth.
Case manager
Depending on where you work, your duties and responsibilities may be different. You could work in a hospital, a company that provides home health care, or an insurance company.
Most of the time, your main job is to figure out what your clients need and connect them to the assets and services that can satisfy those needs.
You could help plan for a patient's discharge, set up home health services, or give your clients access to counseling and psychiatric resources.
Conclusion
A career in social work is crucial since it demands a lot of dedication, time, and emotional energy. So, now you may know how to become a social worker without qualifications.
You want to assist the families in need, the jobless individuals, and the mentally sick by using your abilities, both acquired and innate.
It is a commendable professional decision, given that you might have chosen one that provides more financial reward, freedom, and status. You must be certain that this is the kind of job you want to pursue this reason.
It's a lifelong commitment that may be emotionally taxing and gratifying at different times.
Entering the social working world with your eyes wide open is the greatest way to approach it head-on.

MUST SEE
Learn why seeking legal help is crucial after experiencing a scooter accident. This comprehensive...

The excitement of driving a brand-new car off the lot is a feeling many...

Embark on a fulfilling culinary career with this comprehensive guide that blends education, skill...