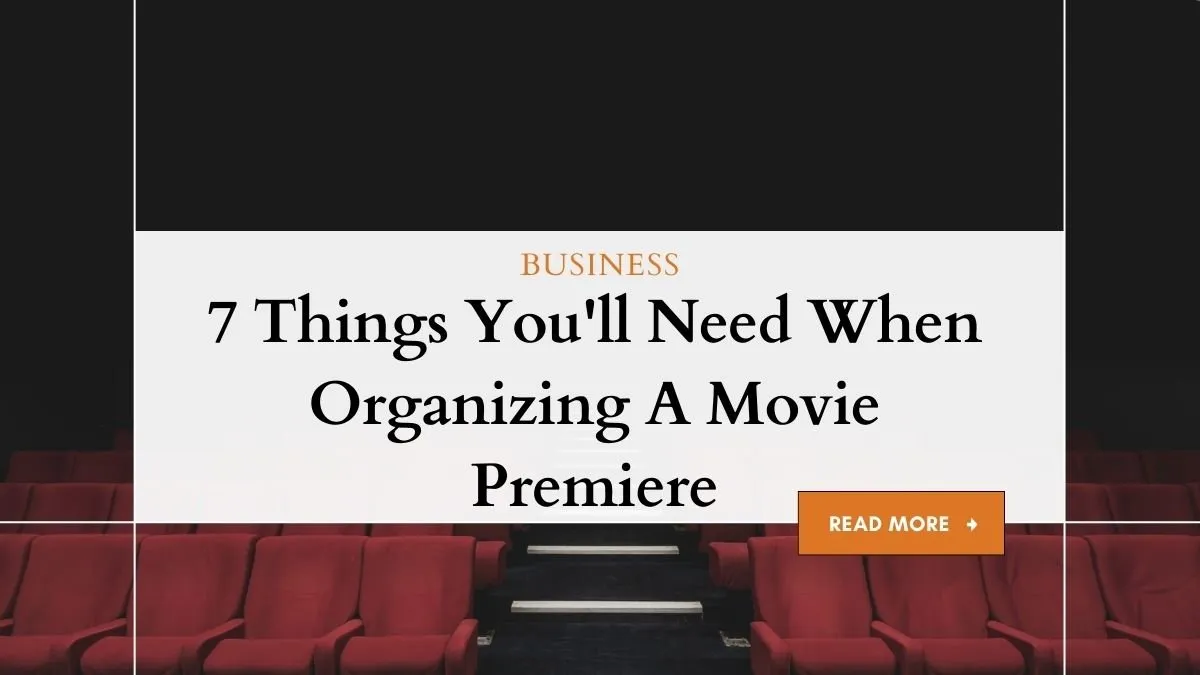 Organizing a movie premiere event may sound like an intimidating task – and it is! Whether you're hosting the premiere of a Hollywood blockbuster or the opening night of an independent film, there are lots of things to consider.
Anything from seating arrangements to refreshments and decorations can quickly add up in cost.
Fortunately, we've compiled a list of seven items that will help make your movie premiere hassle-free and enjoyable for all involved.
Read on to discover our full list of must-haves for any successful movie event!
Also, you can able to know,
Determine a Budget
Planning an event can be an exciting task, but it can also be an overwhelming challenge. One of the most important steps in event planning is determining a budget.
By setting aside funds for each element of the event and creating a budget plan, you can ensure that you stay within your financial limits and avoid overspending.
Your budget plan should cover all aspects of the event from food and drinks to decorations, equipment rentals, and other miscellaneous costs.
Movie premieres can be expensive, so having a budget plan in place can help you keep track of your spending and ensure that no detail is overlooked.
Find Cinema Hire Services
If you're holding a movie premiere event, then one of the most important things to consider is finding cinema hire services.
Since movie premieres are usually held in cinemas or other large screening venues, it's essential that you find a cinema hire company that can provide the necessary equipment and personnel for your event.
Look for companies with experience in providing audio-visual services, such as sound systems, projectors, and screens.
They should also be able to provide experienced staff who can help with technical aspects of the event.
Make sure to discuss all requirements in advance and ask for a detailed quote to ensure that you are getting the most competitive rate.
Choose A Venue
Your choice of venue can make or break an event. It is crucial to select a place that not only accommodates the number of guests but also sets the right mood and ambiance.
For example, a movie premiere may be held in a historic theatre, a trendy bar or restaurant, or even an outdoor venue.
When choosing a venue, consider factors like the size of the space available, its accessibility for guests with disabilities, and any additional amenities that it may offer such as audio-visual equipment or catering services.
If you're unsure of what kind of space would be best for your event, don't hesitate to ask for advice or suggestions from the venue's staff.
They are likely to have experience with hosting events and can help you find the perfect venue for your event.
Hire Professionals
Organizing an event can be a challenging task, but it doesn't have to be if you hire the right professionals.
Make sure to do your research and find reliable vendors for catering, sound systems, lighting systems, decorations, audio-visual services, and any other services that may be required for your event.
Professional assistance will help ensure that every detail of your movie premiere is taken care of, taking some of the pressure off you as the event planner.
In addition, it will help make the event run more smoothly and ensure that everything is set up correctly
Prepare Food and Drinks
One of the most challenging yet exciting aspects of hosting an event is deciding what food and drinks to serve.
Whether it's a light snack or a full-course dinner, careful consideration should be given to what type of food and drinks will best suit your guests.
If you're looking for something that is both cost-effective and delicious, consider hiring catering services and providing signature cocktails.
This way, you can provide a memorable experience while also keeping within your budget.
Movie premieres often feature an open bar, but make sure you are aware of any local regulations regarding serving alcohol. It's always best to be safe than sorry!
Promote The Event
Are you looking to attract a larger crowd to your event? Creating eye-catching promotional materials can make all the difference.
Flyers and posters are a great way to spread the word and get people excited about what you have planned.
From bold fonts to captivating images, there are endless ways to design your promotional materials.
Whether you're advertising online or through traditional print media, make sure to include relevant information such as the date, time, and location of the event.
You may even want to consider offering discounts or promotions for early arrivals! This will help to ensure that your event is well-attended and successful.
It's also important to consider any legal implications when creating your promotional materials, so make sure to read up on copyright laws and regulations before you begin designing.
Don't miss: Key Performance Indicators (KPIs) Examples for Marketing
Arrange Seating and Decorations
If you're hosting a movie premiere, chances are that you will need to arrange seating and decorations.
For formal events such as premieres, it's best to opt for comfortable seating in rows or in private booths. If your event is more casual, consider providing large cushions or chairs for guests to relax on.
As far as decorations go, think about what fits the theme of your movie. This could include a red carpet entrance and lobby decorations that match the setting of the film.
No matter how you decide to decorate, make sure to take into account any fire regulations or other safety concerns before finalizing your plans.
When in doubt, consult with your venue about any restrictions they may have on decorations.
The bottom line
Hosting an event can be a daunting challenge, but doing it correctly can provide meaningful memories that will last a lifetime.
Managing each aspect of the process – such as budgeting, finding a suitable venue, hiring professionals, preparing food and drinks, promoting the event, and arranging seating and decorations – is key to success.
It's important to remember that events don't have to break the bank in order to be enjoyable; with proper planning and unique ideas, hosting an event can not only be affordable but also exciting for all those involved.
So take some time, follow these steps carefully, and get ready for an unforgettable experience!

MUST SEE
Learn why seeking legal help is crucial after experiencing a scooter accident. This comprehensive...

The excitement of driving a brand-new car off the lot is a feeling many...

Embark on a fulfilling culinary career with this comprehensive guide that blends education, skill...