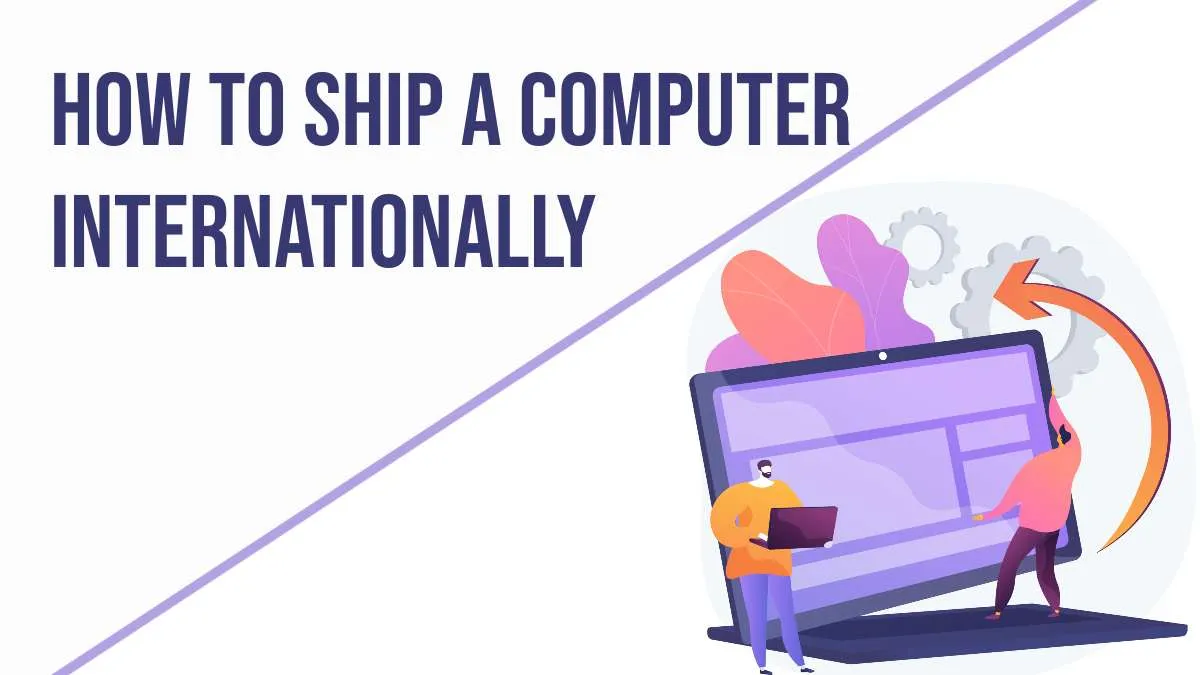 It's difficult to ship a computer since they're costly and delicate. You don't want to be responsible for any consequences if your computer fails to arrive at its destination.
It is better to learn all you need to know about packing and shipping a computer so it comes in pristine shape and is ready to use.
The (how to ship a computer) guide offers everything you need, including materials, to make shipping computers as simple as possible.
Also, you can able to know,
How to Ship a Desktop Computer In 7 Steps
Like most other objects, a computer can be delivered securely and efficiently. To secure the computer's expensive internal and exterior components, you'll want to pack it first carefully.
Ideally, the original manufacturer's packing should be reused and encased inside a new outer shipment box.
After you've carefully packed your items, you'll need to call a parcel or postal service to purchase and arrange shipment.
Get your Shipment Materials Prepared
When shipping a desktop computer, begin by collecting all necessary materials. You'll need to acquire supplies for any shipments that need to be transported elsewhere. Shipping materials are reasonably priced and do not force you to pay high costs.
You'll need a box that's the right size for your project, for starters. This is necessary since your desktop computer will be huge.
The only additional items you'll need for the task are bubble wrap and packing peanuts after you've received the box-these aid in ensuring that your machine is protected to the fullest extent possible.
If you're sending out external accessories, make sure you have enough space to store them in their package.
Wrap the Desktop Computer with a Blanket
Especially the second step in the process is to wrap your computer for delivery properly. One of two factors will primarily determine this. You'll need to think about this if you want to wrap your desktop separately from the display.
If this isn't the case, be sure to wrap them both in the wrap. Seal it with packing tape after you've properly wrapped all of the components. You'll want to double-check that all sections of this package have adequate tape.
If this is not done, it becomes more vulnerable to external causes, such as liquid leakage.
Organize your Computer
In no way should you haste while packing your desktop Computer. Although it may seem simple at first, this could not be farther from reality.
Carefully insert your computer and monitor inside the box after wrapping them together. You may also utilize your desktop's original box if you have one.
Wrap the whole box in bubble wrap once the machine has been placed inside. This serves to offer additional padding to the package, which helps to prevent any possible injury.
After that, you'll need to put the whole product into a suitable shipping box.
Organize your Computer Accessories
This step of the packing procedure varies from one owner to the next. If this is the case, your desktop's accessories might be packed in a few different ways.
You won't need a second box if they can fit inside your primary box without getting crammed. This method helps you to save money on shipping in the long run!
Prepare for Delivery
Your desktop Computer has been packed away. Now you must double-check that the shipment box has been properly sealed. Ensure all packing peanuts are inside the box before sealing it with packing tape.
Tightness may vary here; you'll want to find a subtle medium ground to avoid your package breaking open during shipping. After that, apply your preferred shipping label to the package.
Protect the label from tearing while shipment using clear tape. You might also use fragile-worded stickers to indicate the contents are delicate.
Look into Shipping Services
Most shipping firms will charge around the same fee for desktop computers in general. However, it is still necessary to investigate a few.
Depending on where your computer is transported, various shipping services and suppliers throughout Canada will have varied arrival timeframes.
In deciding the ultimate cost of what is being shipped out, weight may also be an issue.
Deliver the Package to Customer Service
The last step is to deliver your desktop Computer to the postal service of your choice. On the other hand, thankfully, there are various options for doing this. Many contemporary postal systems have modified their business practices.
You don't have to travel to a service center to drop it off anymore. Many postal systems provide at-home pickup as an option.
This implies that a courier will collect your goods and transport them to the primary shipping destination.
Pick the method that best meets your requirements, and your shipment will be delivered.
At first, appearance, packing, and transporting a desktop computer may seem difficult. But it isn't the case.
The packaging procedure is the same as for any other kind of goods. Your computer will be in excellent hands if you take your time with each step of the operation.
Read more: How to Become a Computer Programmer Without a Degree
What is the Best Way to Pack your Computer for Shipping
Choosing the right shipping box for your laptop is critical in the shipping process. When shipping a machine that has been used, however, there are a few things to keep in mind.
When shipping, there are a few things to keep in mind. First and foremost, dust and clean the computer and ensure it is free of moisture.
Also, make sure the computer is turned off; however, you should not remove the device's battery.
Additionally, use a tiny piece of electrical tape or cardboard to cover the power button, so it does not unintentionally switch on while traveling.
You could also think about covering the volume keys. Insert a layer of foam between the screen and the keyboard for further protection when shutting the laptop.
You should also use bubble wrap or plastic to wrap the computer case. You may also place it inside a plastic bag to shield it from the dangers of static electricity while it's in motion.
While tying up the cords, be sure to wrap the cables and adaptors separately in bubble wrap.
After that, place the item in a cushioned Computer box and cover the empty places with packing materials such as foam inserts to keep it secure.
If the original foam inserts are damaged, fix them using pressure-sensitive adhesives or replace them with new ones. And, it would help if you tried to avoid unsecured packing like polystyrene peanuts.
The next step would be to shake the box to see whether it is correctly packed and free of any potential for slipping.
After that, close the box and tape it shut to prevent water from getting inside.
What Should you Consider When Choosing a Computer Shipping Box
The importance of choosing the correct Computer shipping box for your computer cannot be overstated. If you're delivering a new Computer, the best option is to utilize the packaging that came with it.
This should generally provide enough protection for your machine.
However, it's vital to remember that the bulk of these manufacturers' boxes are built for palletized shipment and aren't generally suited for shipping as a single item.
This is why you should consider employing an external packaging box to provide an additional layer of protection for your computer. It would help if you used outer boxing six inches larger on both sides than the container for efficient double-boxing.
Filling the bottom area of the outer box with packing materials like foam inserters is also a good idea. Place the inner material on the packing material and fill the gaps with cushioning materials.
In a similar spirit, if you're sending a secondhand computer and the original box is still intact, you may reuse it.
However, you must ensure that the box is in good functional order and free of damage or rips.
What are the Guidelines for Shipping a Computer
There are a few guidelines to follow while shipping your computer securely. First, you must ensure that the laptop comes on schedule and in good condition.
Most computer damage occurs due to faulty packaging or lack of insurance. Shipping delays might arise if the computer is not adequately labeled or documented.
Assure Adequate Packing
Always cover the computer with plastic before putting it in a box. This should help protect it from other parcels in the cargo damaging it.
It would be best to cushion your laptop to prevent it from moving around within the box. Also, carefully tape all box openings to avoid any form of leaking.
Use a Cushioned Computer Case
It is best to utilize a "shipping box." These boxes are usually cheap and have built-in cushioning that absorbs any shocks during transportation. Choose a box that is intended to match your computer's dimensions.
Choose the Appropriate Shipping Carrier
Use a trustworthy courier like FedEx, UPS, or DHL. You also get insurance from the carrier but know the associated fees.
Also, always add your phone number when creating a mailing label so the shipper may call you if there is a problem.
Battery Rules to Remember
The restrictions for transporting lithium batteries vary by nation and shipping provider. It would be best if you were permitted to send your devices with one lithium battery in the US.
The lithium-ion battery must be marked with a tiny remark. However, it would be best to always verify with the shipping provider for the latest restrictions.
Your item may be forfeited if you do not follow the laws of the land.
How Much Does it Cost to Ship A Computer
Especially, the price of shipping varies based on the delivery provider. As a result, you'll need to make the package dimension accessible to acquire the correct estimate.
This measurement would include the computer's size and a 2-inch margin on all sides.
You'll also need to know the package's weight, the intended destination, your location, the desired shipment speed, and whether or not insurance is required.
It may cost you anything from $20 to $200, depending on the package's dimensions, delivery speed, and weight. Some firms provide a flat-rate service if you can fit your computer into one of their flat-rate boxes.
Also, you should be aware that the cost of packing materials is not set. This is why you must pack the computer so that it can survive.
How to Save on Shipping a Desktop
The buyer can pay for a delivery, but it raises your overall price, putting you at a competitive disadvantage on eBay. You may also pay for delivery yourself, but this affects your selling earnings.
You may also avoid paying for delivery entirely by selling your computer to an online buyback site.
These retailers cover shipping costs and provide free shipping labels. Some even provide free desktop shipping kits, saving you money on supplies.
Read more: How to Become a Graphic Designer Without a Degree
Conclusion
Like most other objects, a computer can be delivered securely and efficiently. To secure the computer's expensive internal and exterior components, you'll want to pack it first carefully.
Ideally, the original manufacturer's packing should be reused and encased inside a new outer shipment box.
After you've carefully packed your items, you'll need to call a parcel or postal service to purchase and arrange shipment.

MUST SEE
Embark on your e-commerce journey with 'The Essential Guide to Starting an Online Store.'...

Discover the lucrative benefits of investing in Abu Dhabi's real estate market. This article...

Dive into 'What is the Legal? Understanding Law in Our Lives,' a detailed exploration...