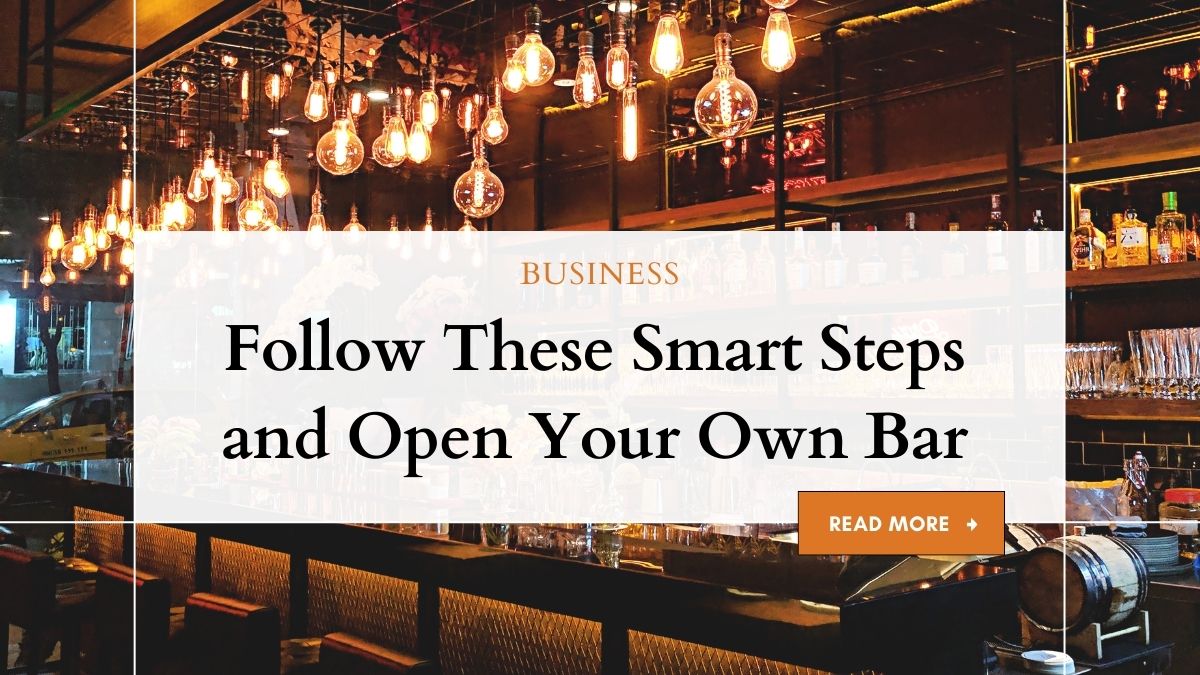 Starting your bar can be an overwhelming yet rewarding venture. You should ensure that you plan properly if you want the best chance of success, and there are many essential steps to consider during the process.
Opening a small local craft beer locale or an upscale cocktail lounge requires a great deal of effort and hard work to make the business successful.
With these smart steps, you can confidently take on this project, knowing everything is handled. Read on for more information about how to open your very own bar.
Also, you can able to know,
1. Invest in Quality Entertainment
Whether you have live performers or a jukebox, entertaining your customers can be an effective way to keep them in the bar for longer and turn them into loyal patrons.
You can invest in live music, karaoke machines, and a jukebox. Investing in quality entertainment will also help you stand out from competing bars.
A quality jukebox can be an excellent addition to any bar, enabling customers to play their favorite songs for free while enjoying their drinks. You can click here to learn more about renting or leasing a jukebox and start entertaining your customers today.
Whatever type of entertainment you decide on, the music must fit in with the atmosphere of your venue.
2. Choose the Right Location for Your Bar
With the right location, you'll attract customers and build a loyal clientele for years. However, choosing the perfect spot takes careful consideration.
Before selecting a site, evaluate accessibility, competition, and local laws. Ensuring your bar is easy to find and convenient to get to can make a big difference in attracting and retaining drinkers.
Additionally, take note of any competitors in the area and consider how you can set yourself apart from them.
It also pays to know local laws and regulations, such as alcohol permits. Do your research before signing a lease to make sure you're setting yourself up for success.
3. Secure Funding
To open a bar, you'll need a start-up capital to handle costs like leasing the space, buying furnishings, and purchasing the necessary materials.
Consider applying for business loans from banks or credit unions, seeking out venture capital firms, or even crowdfunding to secure the funds you need to get your bar up and running.
You'll also want to create a budget for your bar that includes all the costs of opening and running it.
Make sure to factor in costs like taxes, insurance, and employee wages to ensure that you can stay on track financially.
4. Secure the Necessary Permits and Licenses
Operating a bar can be an enriching experience. Still, it can also be daunting if you need to become more familiar with the different types of licenses and permits required to run it legally.
Securing all the necessary permits and licenses before opening your bar is essential to avoid fines and legal repercussions.
Depending on your location and the type of bar you intend to run, there could be various licenses and permits you need to obtain.
These may include a liquor license, food service permit, and music entertainment license.
Failure to secure these licenses and permits can lead to prohibition orders, revocation of licenses, and business closure.
5. Conduct Market Research
As a business owner, it's crucial to understand the preferences and behaviors of your target customers.
Conducting market research is an excellent way to gain insight into the local market and tailor your offerings accordingly.
By learning about your customers' needs and desires, you can create a powerful marketing strategy that resonates with your target audience.
Whether it's discovering what products or services they're seeking or where they typically shop, market research is a valuable tool to help you establish a strong presence in your community.
So take advantage of the opportunity to connect with your customers at a deeper level – start conducting market research today.
6. Design the Interior Layout of Your Bar
The layout of a bar can make or break the entire experience for a customer. When designing the interior, it's essential to consider the atmosphere you want to create.
Do you want a cozy, intimate feel or a vibrant, energetic vibe? You'll need to pay attention to lighting, seating arrangements, and decor that will work towards achieving your desired ambiance.
Think carefully about the placement of the bar itself – should it be the focal point or blend in with the rest of the space?
Once you've created the perfect atmosphere, your customers will keep coming back for more than just the drinks.
7. Develop Drink Specials
It's time to shake things up at your bar or restaurant. If you're looking for ways to bring in new customers and keep your regulars coming back for more, it might be time to develop some creative drink specials.
Offering discounts or deals on new or signature drinks can be a great way to entice guests into trying something fresh and exciting.
By giving them a taste of something unique, you'll expand their palate and draw them in for repeat visits.
Whether it's a discounted cocktail during happy hour or a buy-one-get-one deal on a craft beer, your customers will appreciate the opportunity to try something new while saving a few bucks.
Unleash your inner mixologist and develop fun drink specials for customers to flock to your bar.
8. Hire Qualified Staff
Hiring the right staff is crucial to the success of any business. But, once you have assembled a great team, the next step is ensuring they can provide excellent customer service.
This can make all the difference in retaining customers and building a positive reputation.
By investing in training programs, you can equip your employees with the skills and knowledge they need to exceed customer expectations and represent your brand best.
Regular training shows your commitment to employee development and can increase job satisfaction and loyalty.
So, ensure that you hire the right people and invest in their continuous learning and development.
Don't miss: 21 Key Performance Indicators (KPIs) Examples for Marketing
The bottom line
Starting and operating a bar is challenging, but it can also be rewarding with the right preparation.
Taking the steps mentioned above can help ensure your business is up and running in no time.
Although each element requires attention and dedication to succeed, approaching each task with diligence and creativity can set you up for long-term success in the competitive bar industry.
Through careful planning and execution of these steps, you can create a place where drinks are served, and memories are made.

MUST SEE
Learn why seeking legal help is crucial after experiencing a scooter accident. This comprehensive...

The excitement of driving a brand-new car off the lot is a feeling many...

Embark on a fulfilling culinary career with this comprehensive guide that blends education, skill...