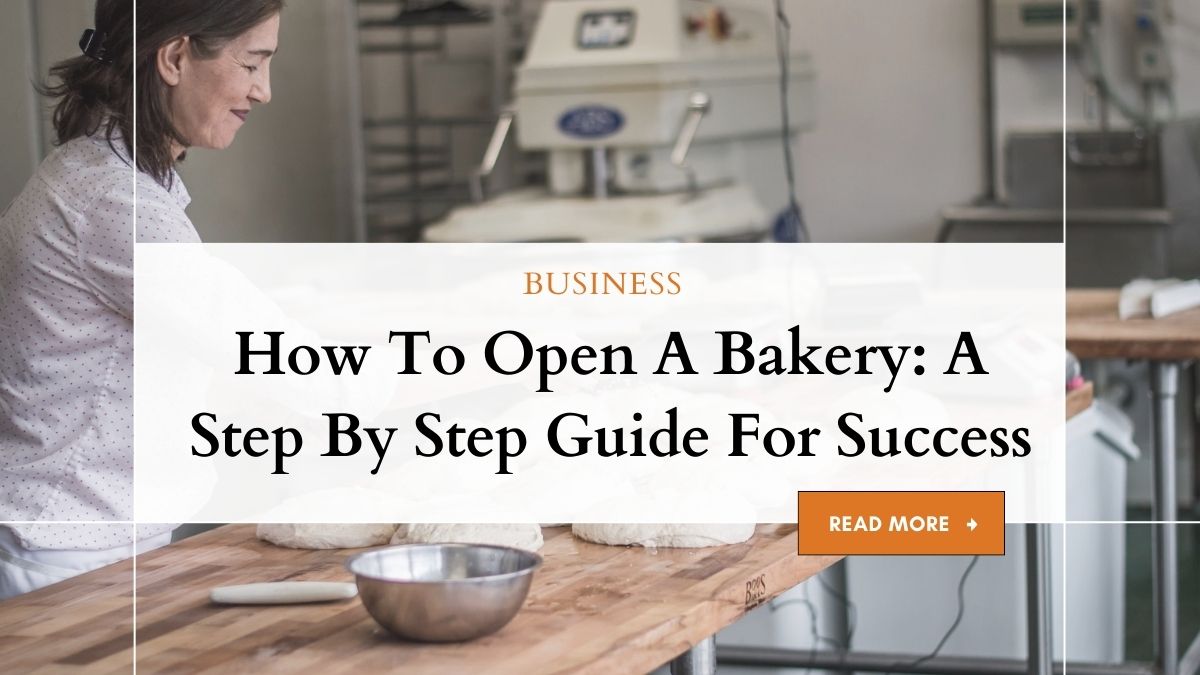 Opening a bakery is certainly a challenging feat. It requires extensive planning, dedication to quality and creativity, access to capital for startup costs, and an understanding of the legal requirements of a business.
Whether you want to turn your passionate hobby into a career venture or add to your current business portfolio by launching this type of food service industry idea, this step-by-step guide will help ensure that your journey toward success takes the right course of action from start to finish.
Also, you can able to know,
1. Think About Food Safety Quality Management
Food safety quality management is a critical component of any successful bakery business.
It involves implementing procedures and processes to ensure that all food products produced are safe for consumption and meet industry standards in terms of quality.
This includes following proper sanitation practices, adhering to strict temperature controls, using only approved ingredients, and maintaining accurate records on production batches.
To effectively manage food safety quality at your bakery, you must create an effective system that covers all aspects, from raw materials procurement to product distribution. Compliance with BRC Certification packages will help to ensure that all applicable regulations, including those related to food safety, are followed.
You will also want to invest in a reliable food safety quality management software package that provides traceability and real-time monitoring of operations.
2. Secure Funding if Needed
To get your bakery business up and running, you will need a certain level of capital. This could be a combination of personal funds, grants, loans from financial institutions or investors, or crowdfunding.
Before applying for any funding options, it is crucial to identify how much money is needed and what the funds will be used for (equipment purchases, rent, employees, and marketing).
Additionally, you must have a solid business plan outlining your goals and objectives. This will help potential investors or lenders understand your vision and why they should invest in your bakery.
Whatever route is taken, it's essential to thoroughly research and understand the terms and conditions of any financing option.
3. Utilize the Right Equipment for Your Bakery
Having the right equipment is essential in a bakery. From ovens and proofers to mixers and slicers, having the right tools can make or break your business.
It's important to consider how much space you have available for equipment before investing in any tools.
Additionally, research different brands and prices to determine what fits best within your budget.
It's also essential to keep up with the latest trends and technologies regarding baking equipment.
For example, convection ovens are becoming increasingly popular because they can bake quickly without dehydrating or burning foods.
Investing in this high-end technology can help your bakery stand out among its competitors.
4. Select an Ideal Location
When selecting a location for your bakery, several factors should be considered. These include the size of the space, its proximity to potential customers or suppliers, zoning laws, access to public transportation, and parking availability.
Additionally, research any competitors in the area and consider how these factors will affect business operations.
A prime location can distinguish between breaking even and turning a profit. You need to choose a spot that's easily accessible for your customers and has ample parking for their convenience.
A location that attracts a good customer flow can also help. Research different neighborhoods and areas to ensure you find the ideal spot.
5. Create a Brand Identity
Creating a recognizable brand identity is key to the success of a bakery. This includes choosing an appealing name, logo, colors, and website design for your business.
Keeping the design consistent throughout will help customers recognize your brand and build trust.
Additionally, having an online presence can make it easier for customers to find more information about you and place orders quickly and easily.
Once you've developed a recognizable brand, ensuring the same message is consistently communicated across all platforms is essential.
This includes social media, print material, website content, and other marketing or advertising materials.
Consistent branding will help customers know what to expect when they enter your bakery or order from you online.
6. Formulate a Plan for Growth
Businesses must constantly evolve and grow to remain successful. As a bakery owner, you should continuously assess your customers' needs and identify opportunities to expand.
This could include introducing new products or services, opening additional stores, or investing in advanced technology or equipment.
It's crucial to stay ahead of the curve when it comes to trends in the industry and adjust accordingly.
You should also set up systems for tracking customer feedback and using the data to make informed decisions about your future growth.
With a clear plan, you can ensure that your bakery business continues evolving and remains competitive.
7. Develop an Effective Marketing Strategy
In today's competitive market, having an effective marketing strategy is essential for attracting customers and driving sales.
This could include utilizing various online and offline platforms such as social media, email campaigns, print materials, and radio or television ads.
You should also consider offering discounts or promotions to drive traffic to your bakery.
It's essential to stay consistent with your branding across all marketing channels and create content that resonates with the target audience.
Additionally, consider investing in customer loyalty programs to ensure customers' return time and time.
A solid marketing strategy can build brand awareness and ensure your bakery business remains successful for years.
8. Hire Quality Employees
When running a successful bakery, having quality employees is essential. They will be the face of your business and directly responsible for providing a great customer experience. When choosing employees, look for individuals with the right skill set and attitude.
Additionally, create an employee manual outlining expectations and policies so everyone is on the same page.
It's also essential to ensure your staff is properly trained in all aspects of bakery operations, from baking techniques to customer service.
This will help them feel more confident when interacting with customers and ensure a positive experience.
With a team of quality employees, you can create a culture that fosters excellence and drives success for your bakery business.
Don't miss: How to Build a Strong Brand Identity
The bottom line
With the right approach, you can ensure that your bakery business becomes a success.
By considering these factors and planning accordingly, you can create a fantastic experience for your customers and ensure they keep returning for more.
Remember, the success of any business depends on careful planning and dedication to quality customer service.

MUST SEE
Learn why seeking legal help is crucial after experiencing a scooter accident. This comprehensive...

The excitement of driving a brand-new car off the lot is a feeling many...

Embark on a fulfilling culinary career with this comprehensive guide that blends education, skill...