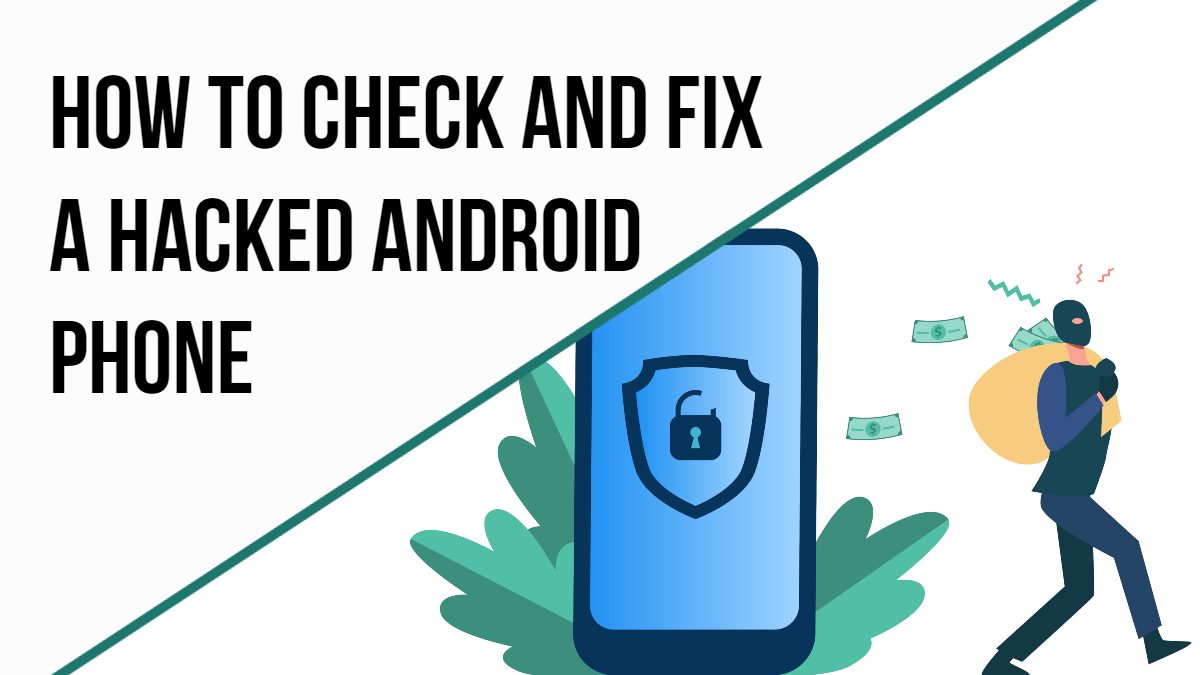 How do you know if your android phone is hacked and How to fix a hacked Android phone? Don't worry, and this article will cover the basics and guide in identifying, fixing, and preventing hacked phones.
This article would include the following sections;
What is hacking?
How can your android phone be hacked?
How can you identify if your android phone is hacked?
Guide to fix a hacked Android phone
How to prevent your android phone from being hacked?
Let's start,
Also, you can able to know,
What is hacking
Hacking can be defined as the process of exploring and exploiting vulnerabilities in a device or a network to obtain unauthorized access to private data and device resources.
Hackers are commonly viewed as outlaw programmers who are extremely skilled at coding and manipulating hardware or software systems on computer systems.
This refers to the use of computers to perform criminal activities, such as deception, violation of privacy, theft of business or personal information. Hacking could be a major threat to all the data present on your device, which can be stolen.
It can also affect your privacy, as the hackers would be able to access components of your device such as a microphone and camera.
Moreover, criminal hackers have numerous technical means and motivations to maliciously exploit your devices, such as paid services, hacking, invading privacy, or even for entertainment.
How Can Your Android Phone be Hacked
Owning a mobile phone probably means that you should be constantly worried about getting hacked. Hackers mostly use discreet types of attacking tools and techniques created to go entirely overlooked by cybersecurity applications and security squads.
For example, "phishing" is a technique used by hackers to imitate a business or trustworthy person in order to obtain sensitive information. Your device will be infected with viruses once this malicious material is accessed, revealing your confidential data.
Skilled hackers may use special software applications to exploit vulnerable mobile phones, using device networks themselves, such as Wi-Fi, Bluetooth, or other wireless networking technologies.
These types of attacks are usually performed when a hacker is in closer range of your device, typically in a populated public place so that they cannot be caught specifically.
There are also malicious phone surveillance applications for spying purposes, which are typically installed secretly and hidden. Text messages, internet activity, contacts, location, and even images can be accessed remotely through these apps.
They may also be used without the user's knowledge to continuously listen to the microphone or even trigger the camera.
How Can You Identify if your Android Phone is Hacked
Are you suspecting that your android phone might be hacked? This section will include six major signs to look for in case you think your device is hacked.
01. Decreased Performance
If you find your device performance being slower than usual or lagging while using, this could be a sign that your mobile is hacked because the slower performance might indicate the malware/virus is running secretly in the device.
However, If your phone is too old, it could also badly affect your device performance level. So, it is important to check how old is my phone to maintain the ideal performance of your device.
02. Battery Draining Faster
If you figure out your device's battery is draining faster than usual, that might indicate a malware application using more battery.
The malware might be running in the device's background, where its activity cannot be spotted by the user.
03. Increased Internet Data Usage
If your device is hacked, you might see your device might use more internet data.
This would be the gateway the hacker is using to access your device data through malware.
04. Unusual Applications Installed
Your device might be hacked if you notice unusual behavior in the device.
For example, if you see weird applications on the device that you never installed, it's a sign that the malware is taking control over the device.
05. Frequent Pop-Up Flashes
Once your device is hacked, the malware installed might produce frequent pop-ups while the device is in use.
This could mean that the malware is running in the background.
06. Advertisements
If you are starting to see advertisements throughout the device that wasn't there before, it would be the malware trying to view them.
This would mean that the hacker might be trying to earn money by viewing the advertisements.
Guide to Fix a Hacked Android Phone
If you identified weird activity on your device and found that you are hacked, don't worry.
This section will include a complete guide to fix a hacked Android phone. Below mentioned are the three essential steps to take once you find your device hacked.
01. Uninstall the Unusual Application
The initial step would be to search the device for unusual applications installed.
Once you find them, you can uninstall them in the device settings (Settings > Apps > Select the app and uninstall), which would remove it from the device.
02. Install a Reputed Virus Cleaner Software
You can head over to the 'Play Store' on your device and install a reputed virus cleaner software.
The cleaner would scan your device and remove additional malicious files hidden in the storage.
Once the files are removed, the hacker cannot access the device.
03. Factory Reset your Device
If you still spot malicious activities in your device, it's safer to perform a factory reset.
This will wipe all the data from your device, including the virus files stored on your device.
After resetting, your device software will revert to the default condition with no data.
How to Prevent Your Android Phone from being Hacked
How can you protect your device from getting hacked? This section will include six effective steps to take in order to prevent your device from getting hacked.
01. Lock your Device with a Password or Pin
It is highly recommended that you should set a security lock on your android device.
This will prevent unauthorized individuals from accessing the device. It is also essential that you do not share these lock details with anyone else.
02. Install Reputed Antivirus Software
You can head over to the "Play Store" on your device and install an antivirus application.
The antivirus would constantly scan your device and alert you if there is any malicious file found.
You can then block or remove the malicious file before it accesses the device.
03. Turn off Wireless Connections when not in use
You can turn off wireless connections such as Bluetooth and Wi-Fi when not in use.
This would restrict the hackers from exploiting your device vulnerabilities.
04. Don't Install Applications from Unknown Sources
It is not recommended to download or install and applications from unknown sources, which might contain malware.
Always use your system app store/browser to download/install files.
05. Keep an Eye on your Device in Public
Make sure to not leave your device unattended in public places, as it could be a great opportunity for hackers to try and access your device without your knowledge.
06. Constantly Look for Unusual Device Activity
If you constantly monitor your device activity, you would be able to spot any unusual activity which might be caused by malware.
This way, you can find out the issue early and treat them more effectively.
Conclusion
This article provided an ultimate guide to fix a hacked Android phone. Further, hacking concepts and a prevention guide were also included.
Stay tuned to this website to explore more exciting stuff. Don't forget to check out our previous articles.

MUST SEE
Learn why seeking legal help is crucial after experiencing a scooter accident. This comprehensive...

The excitement of driving a brand-new car off the lot is a feeling many...

Embark on a fulfilling culinary career with this comprehensive guide that blends education, skill...